⚽ Hiatus Diaries: Lewandowski's TikTok crimes, Jota crowned FIFA king
With the pandemic suspending sporting events worldwide, athletes suddenly have tons of time on their hands. In the latest installment of our weekly soccer series, we look at how they've been keeping themselves entertained – and in shape – while self-isolating.
Paging Dr. Diego
Like with last week's hero, Real Betis' Ana "Willy" Romero, former Real Oviedo striker Diego Cervero owns a medical degree and is seeking out opportunities to assist Spain's COVID-19 battle.
For now, Cervero's admirable advances await a suitor, though the 36-year-old says he'll go anywhere to help. Even England. Read Sid Lowe's lovely story here.
Arsenal's social distancing slip-up
Since these pages have slammed Tottenham "Covidiots" Jose Mourinho, Tanguy Ndombele, Serge Aurier and Moussa Sissoko, it's only fair that we bemoan four players from north London rivals Arsenal for similar infractions.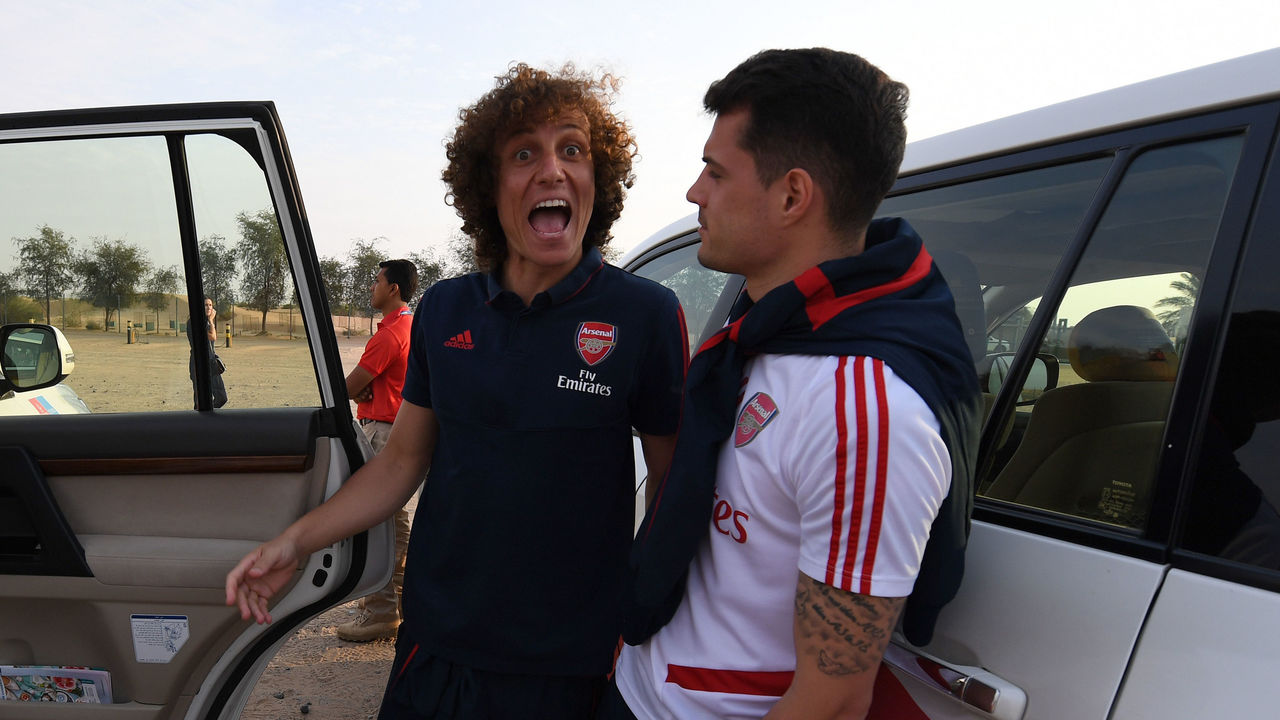 Nicolas Pepe was spotted at a kickabout with friends, a dog walker snitched on David Luiz and Granit Xhaka's low-key park hangout, and Alexandre Lacazette stood too close to the fella washing his car. We need football back.
Mourinho, Moyes delivering groceries
And if we're going to highlight Mourinho's lapses, so too should we praise his charity. Mourinho delivered produce – grown at the team's training center – to the Tottenham Hotspur Stadium, which has been repurposed by the NHS and used as a food distribution centre. Park the bus, and fill it with parsnips.
Elsewhere, West Ham boss David Moyes volunteered to deliver groceries near his family home in Lancashire. "When the virus first broke out, the fruit and veg shop in my village were asking for drivers … So I became a driver for the fruit and veg shop," Moyes told Talksport.
"All I would do was drop the fruit and veg on the doorstep, knock on the door and then move away … I've got to say, they were beautiful, colorful boxes of fruit and veg."
Pogba megs disinterested mom
Without defenders to evade, Manchester United star Paul Pogba had his mom stand in as a nutmeg victim. The Pogba matriarch makes Lee Cattermole look like Linford Christie. Somewhere, Graeme Souness is choking on a steaming-hot bowl of pablum.
No word yet if Pogba was one of the United players to submit, as team doctor Steve McNally puts it, "unusual complaints," with a slew of unnamed players suffering cooking burns and dog bites while on hiatus.
EPL stars mash buttons for good cause
Wolves attacker Diogo Jota beat Liverpool right-back Trent Alexander-Arnold in the final of the Premier League's inaugural FIFA 20 tournament, the ePL Invitational. You can read more about Saturday's match here.
Overall, it was actually a decent idea. The league's 20 teams were represented by 18 players and two "celebrity" bootlickers, while the gameplay was as enthralling as the players' backdrops were bemusing.
Alexander-Arnold looked like he'd fallen asleep, Bournemouth's Philip Billing appeared trapped in the laundry room, and in terms of hubris, Tottenham's Moussa Sissoko takes the prize for playing in a room that had a portrait of himself in the background.
Lewandowski petitions for abolishment of TikTok
Shame that the accomplishments of Robert Lewandowski's stellar campaign for Bayern Munich have been overshadowed by his on-hiatus social media presence.
On Instagram, the Polish striker has been hawking coffee while shirtless and unboxing cell phones, but it's on adolescent app TikTok where Lewandowski has been at his worst.
Hear that? It's the collective sound of every Bayern supporter swallowing their own vomit. We'd suggest chucking his phone in the river, though odds are he'll receive another one in the mail.
De Roon mixes pizza pledge with laughs
Finally, a footballer who does social media right. Atalanta midfielder Marten de Roon's Twitter bio reads: "Summary of playing football in Italy: when we win I get the best table and the food for free. When we lose, my wife has to pick it up."
That should give some insight in the Dutchman's online ethos, and whether it's on Twitter or Instagram, De Roon's material is top shelf. Recently, De Roon did an online Q&A, and he made an offer few Italians would ignore.
De Roon also expounded on Peter Crouch's seminal chastity claim.
Asked what he'd be if he wasn't a footballer, de Roon replied: "Like Crouchy once said: 'A virgin, probably.' On a serious note, I wanted to be an accountant. Basically the same.'"
Hard to argue with that logic.