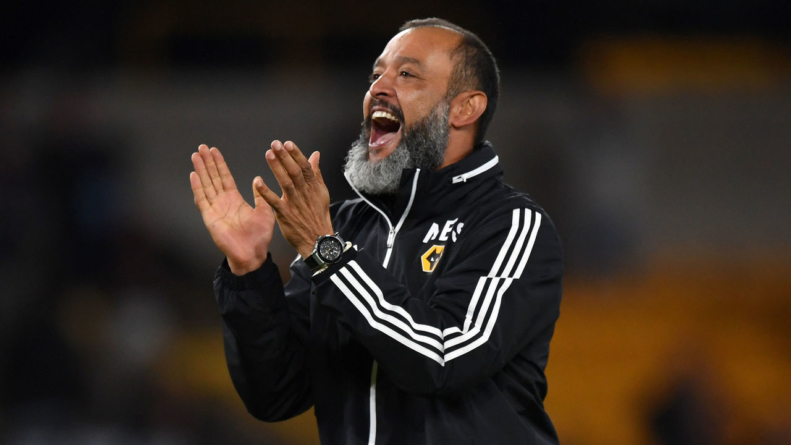 Assessing Arsenal's most realistic managerial options
Arsenal confirmed the end of Unai Emery's disastrous year-and-a-half in north London on Friday.
That was the easy part.
Defensive chaos, the lack of a clear identity, a dearth of leadership, and the absences of confidence and entertaining football were the hallmarks of a manager in well over his head. Those negative attributes now shroud Arsenal's dire campaign and have rightly come to define a team performing far below expectations.
Arsenal must now find a replacement. They can't afford to make the same mistake twice.
With former Invincible member Freddie Ljungberg set to take the reigns on an interim basis, here's a look a five realistic appointments Arsenal could make to right a rapidly sinking ship:
Nuno Espirito Santo
Several bookmakers list Wolves boss Nuno as the favorite for the appointment despite his current employment.
Pros: If Emery was noted for being indecisive, vacillating between countless formations, Nuno is anything but. Nuno sticks with a three-man central defensive unit and used the fewest first-team players (18) of any Premier League manager last season. A distinct identity is a staple of Nuno's teams, something Arsenal lacked with Emery at the helm.
Cons: Like Emery, Nuno is known is a defense-first manager. That won't fly for a fanbase keen on attacking football. They may also find a move for the Wolves manager to be lacking in ambition; the same was probably said when Arsene Wenger was hired. More importantly, though, why would Nuno leave the Molineux? He has autonomy over transfers, and his agent, Jorge Mendes, has an official role with the ownership group and has signed more than a dozen Portuguese players.
Max Allegri
Six-time Scudetto winner Allegri has been out of work since leaving the Old Lady by mutual consent last summer.
Pros: Former Milan and Juventus boss Allegri is a consummate professional and serial winner who would immediately bring respectability back to the Arsenal locker room. The Italian would help make Arsenal more defensively rigid even without the talents of famed center-backs Giorgio Chiellini and Leonardo Bonucci.
Cons: Despite taking lessons, Allegri's English isn't great – communication issues would continue. Allegri's defense-minded approach wouldn't inspire fans, and with the 52-year-old collecting checks from Juventus, it's unlikely he'd want to take a midseason job. Some reports claim Allegri's been approached, while others deny interest. Allegri appears keen on taking the Manchester United job in the summer.
Carlo Ancelotti
Well-traveled tactician Ancelotti is frequently linked with the Arsenal job despite being midway through a three-year deal at Napoli.
Pros: Ancelotti has Premier League experience and guided Chelsea to a domestic double in 2009-10. One of only three managers to win the Champions League on three occasions, Ancelotti is universally loved by his players and noted for affording his charges the opportunity to express themselves on the pitch. The anti-Emery.
Cons: Why buy out the contract of a currently employed manager while also shelling out for the remainder of Emery's? Napoli chairman Aurelio De Laurentiis is no pushover when it comes to contract negotiations, either. Moreover, Ancelotti's laissez-faire approach might not be best suited for Arsenal's current state. The Gunners need a manager with a clear plan and an eye on the future, not a midseason stopgap.
Mauricio Pochettino
With the ink on his P45 still fresh, former Tottenham boss Pochettino is strongly linked with making the short trip south on Seven Sisters Road.
Pros: If Arsenal's players gave up on Emery, they'd run through a brick wall for Pochettino. Few managers in football are more revered for drawing water from a stone than the Argentine, and hopes are he could chaperone the growth of Nicholas Pepe and Matteo Guendouzi as he did with that of Heung-Min Son and others. His high-pressing, attacking brand of football is well-suited to Arsenal.
Cons: There are other jobs set to become available in the summer that could be more alluring to Pochettino (Bayern Munich, Manchester United). The media uproar surrounding a move to Arsenal would make Sol Campbell's switch from White Hart Lane to Highbury look like the dealings of a rural swap meet. That distraction could prove too much for Pochettino.
Mikel Arteta
Pep Guardiola's assistant at Manchester City appeared set to succeed Arsene Wenger at Arsenal before the club shockingly appointed Emery.
Pros: Arteta played for Arsenal, wore the captain's armband, and is training under arguably the sport's best tutor. The presumption is that Arteta's tactics, like Guardiola's, would be shaped from the same Barcelona-Ajax hybrid model the pair absorbed in the Catalan capital. He'd be a proactive hiring made with an eye on the long-term future of Arsenal.
Cons: Arsenal don't have all of the necessary components to play a brand of football similar to Guardiola's at City, so the usual uptick in form under a new manager could be cast aside for a potentially poor start. Without any first-team managerial experience, there's really no way of knowing if Arteta is a suitable appointment.