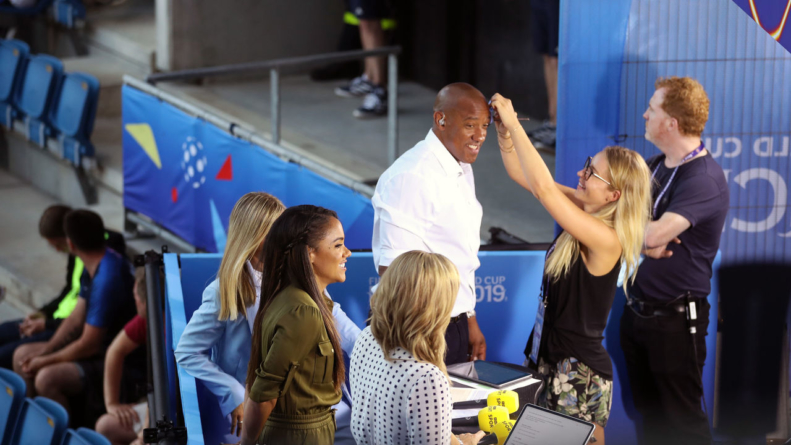 By the numbers: Women's World Cup posts stellar TV, social media returns
There's a general sense the 2019 Women's World Cup in France was a landmark tournament, one that will have a lasting impact on the growth of the sport.
The early signs are encouraging. Chelsea and Manchester City women's teams will host their respective WSL season openers at Stamford Bridge and the Etihad; Budweiser agreed to a multi-year sponsorship with American league NWSL; and ESPN will show 14 NWSL matches across two channels during the second half of the 2019 season.
Nike CEO Mark Parker revealed the popularity of the U.S. women's national team is also translating to retail returns. "The USA Women's Home jersey is now the (number) one soccer jersey, men's or women's, ever sold on Nike.com in one season," he said.
Still, there is massive room for growth, with the United States providing a benchmark for aspiring nations. For example, according to FIFA, the U.S. has 1.5 million registered female Under-18 players compared to England's 76,000. The U.S. also boasts 10 times as many accredited female coaches as England and 30 times more female match officials.
Here's a glance at 10 early returns for viewership, attendance, and social media engagement from the 2019 Women's World Cup:
112K: The USWNT's celebratory message was retweeted 112,000 times, the most shared tweet of the Women's World Cup final. Nike's victory tweet came in second with 82,000, and former U.S. President Barack Obama's congratulations placed third with 60,000.
1.16M: Ticket sales of no less than 1.16 million marked the second-highest attendance for a women's tournament behind the 2015 contest in Canada.
5M: Germany posted TV viewership of 5 million for Sunday's showpiece, a significant return for a nation eliminated by Sweden in the quarterfinals. That number reflects approximately 28 percent of Germany's TV shares.
5.5M: The Netherlands saw a record TV audience take in the final versus the U.S., with 5.5 million people – or 88 percent of TV viewers in the country – tuning in. It was the most watched women's match in Dutch history.
6M: Despite being bounced in the quarterfinal stage, host France posted some stellar viewership numbers; a combined six million viewers watched Sunday's finale on TF1 (5.3M) and CanalPlus (7K), amounting to a 46.6 percent share of TV viewers.
11.7M: England's semifinal defeat to the U.S. drew the largest British television audience of the calendar year with 11.7 million.
15.3M: USWNT star Alex Morgan surpassed 15 million total social media followers during the tournament: eight million on Instagram, 3.8 million on Twitter, and another 3.5 million on Facebook.
25.4M: Fox, Telemundo, and various streaming platforms reported a combined 24.5 million American viewers for the 11 a.m. ET kickoff for World Cup final. It was the highest-rated football broadcast in the country since the 2015 Women's final between the U.S. and Japan. The 10.0 household rating share also exceeded the 8.3 percent return for the 2018 Men's World Cup final.
28.1M: A record-breaking 28.1 million viewers tuned into BBC's televised coverage of the entire tournament, accounting for 47 percent of the U.K. population.
59M: According to the BBC, 59 million people worldwide watched the last-16 match between Brazil and France, making it the most watched women's football match of all time.
1B: FIFA estimates that upwards of 1 billion people tuned in to watch the 2019 Women's World Cup.