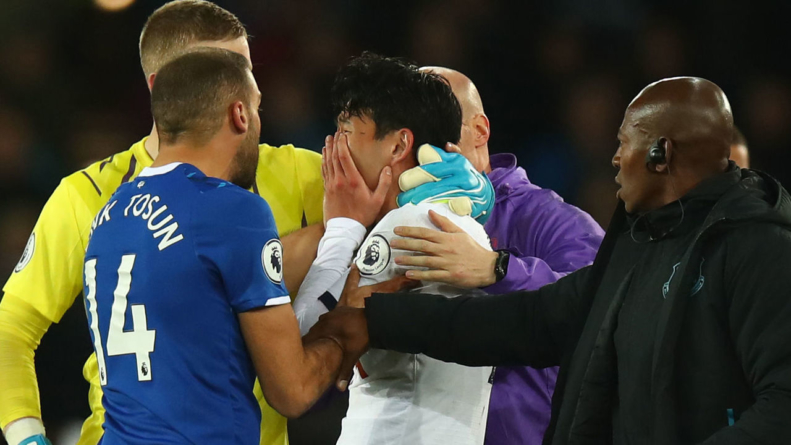 Everton's Gomes suffers horrific ankle injury that leaves Son in tears
Everton midfielder Andre Gomes was forced to leave Sunday's 1-1 draw against Tottenham due to a serious injury.
The 26-year-old was stretchered off the pitch after appearing to suffer a horrific ankle injury as a result of a late challenge in the 79th minute from Tottenham forward Heung-Min Son, who was in tears before subsequently being shown a straight red card.
Everton released a statement confirming that Gomes suffered a gr
"Andre has gone to hospital. He's with our medical team and it's better we wait for an update," Silva said. "Of course, it's a bad moment for us as a group. It's more than football. We'll give all our support to Andre."
Replays appeared to show Gomes land awkwardly on the turf following Son's tackle from behind, which also led to a collision with Spurs defender Serge Aurier.
Everton teammates quickly realized the severity of the injury and urged members of the medical staff to attend to the Portugal international.
Son was visibly distraught and had to be consoled as he walked down the tunnel after being sent off. A distressed Aurier, who appeared to step on the midfielder's foot, was substituted for in the 88th minute.
The match was delayed for six minutes while medics tended to Gomes, who was led straight to an ambulance at Goodison Park to be taken to a hospital, according to Pat Nevin of BBC Sport.
Spurs goalscorer Dele Alli revealed post-match that Son was inconsolable in the dressing room.
"Son is devastated and in tears," he said, according to BBC Sport. "It's not his fault. Son is one of the nicest people you've ever met. He can't even lift his head up, he's crying so much."
Spurs boss Mauricio Pochettino added: "We all feel sorry for Andre. I want to send my best wishes to him and his family. It's a tough moment and, on behalf of Spurs, I can say our thoughts are with him."
Everton trailed at the time of the injury courtesy of Alli's second-half strike. But a header from Cenk Tosun in stoppage time helped the Toffees secure a point at home.