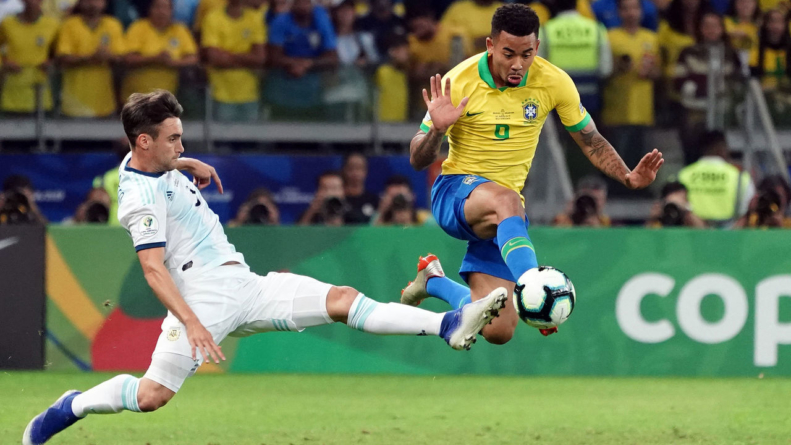 Gabriel Jesus and the burden of wearing No. 9 for Brazil
When Gabriel Jesus notched his second goal against Honduras in last month's friendly, it was his fifth goal over his past three appearances for Brazil – one more than he's managed in the league for Manchester City in 2019.
Pep Guardiola's ranks collected three major honors last season but, for Jesus, it was his most disappointing spell over two-and-a-half years in England. His pneumatic press lost some of its punch and his near-omnipresence during matches receded into intermittent involvement. Sergio Aguero was the undisputed first-choice striker at City and Jesus often warmed the bench with his confidence seemingly shot.
| | 2017-18 | 2018-19 |
| --- | --- | --- |
| Appearances | 29 | 29 |
| Goals | 13 | 7 |
| Assists | 3 | 3 |
| Shots | 56 | 43 |
| Key passes | 19 | 21 |
| Successful dribbles | 24 | 22 |
| Tackles | 23 | 10 |
The 2018-19 club season wasn't ideal preparation for Jesus' Copa America campaign, particularly because his importance swelled following news that Neymar was out of the tournament after rupturing an ankle ligament. Canarinho head coach Tite – a loyal supporter of Jesus – also appeared to need to win the summer showpiece to save his job, which only added to the pressure.
And that's before the burden of wearing Brazil's No. 9 shirt is even considered.
Dropped
Jesus started 17 of Brazil's 20 competitive matches between his September 2016 debut and the end of the 2018 World Cup. He was called off the bench in the other three games.
Tite continually backed Jesus as the central figure in his attack, but that changed this summer. For the opening two matches of the Selecao's Copa America endeavor on home soil, Tite opted for Richarlison and David Neres on either side of Roberto Firmino in a three-pronged frontline.
Richarlison has been immovable in Tite's squad since he replaced Fluminense's Pedro last August, impressing as a versatile and creative option in the striking roster. Neres shone as Ajax unexpectedly reached the 2018-19 Champions League semifinals. Firmino, meanwhile, is a modern No. 9 in every aspect except for the figure on the back of his Brazil shirt (he wears No. 20). The luminescent-toothed frontman entered the tournament as an undisputed Liverpool starter who continually coaxed the best out of his attacking colleagues Mohamed Salah and Sadio Mane.
So, Tite leaving out Jesus was no great surprise. In fact, Jesus is Brazil's least prolific No. 9 at a Copa America in the post-Ronaldo era:
| Year | Brazil's No. 9 | Goals in last full league season |
| --- | --- | --- |
| 2019 | Gabriel Jesus | 7 |
| 2016 | Jonas | 32 |
| 2015 | Diego Tardelli | 10* |
| 2011 | Alexandre Pato | 14 |
| 2007 | Vagner Love | 9* |
| 2004 | Luis Fabiano | 29* |
| 2001 | Guilherme | N/A** |
* Participated in Copa America midway through new club season.
** Brazilian league season briefly adopted cup format in 2000, but Guilherme traveled to the 2001 edition during a prolific spell with Atletico Mineiro. He was his team's top scorer in the 1999 league season with 28 goals.
The weight of Ronaldo's No. 9 shirt is still considerable – grab the low-hanging fruit and insert a fat joke here – some 13 years after his last competitive appearance for the Selecao. Ronaldo scored as many goals at the 1999 Copa America (five) than his successors collectively tallied over the following six editions, and national expectations haven't lowered after those modest numbers. The former Real Madrid and Inter marksman remains the reference point of how a No. 9 is supposed to perform for Brazil.
Jesus will be a letdown unless he reaches Ronaldo's high bar, or revolutionizes a No. 9's duties for Brazil. Somewhat unwittingly, Jesus is toying with the latter.
Rediscovering form
Tite was presumably spooked by the goalless draw with Venezuela in Brazil's second outing, so he made two changes for the third match. Everton, cocksure after a goal-scoring cameo in the Copa America opener, replaced Neres on the left and Jesus commandeered Richarlison's slot on the right – a reprisal of his wide role from his early Palmeiras days. Firmino stayed in the traditional No. 9 position.
Jesus didn't score and had a stoppage-time penalty saved in the subsequent 5-0 trouncing of Peru, but there were signs of life that became abundantly clear thereafter.
He was held back to ensure he stood over the decisive penalty in the shootout against Paraguay in the quarterfinals, and confidently converted to send his country into the last four. Then, in the semifinal scuffle with Argentina, he relieved himself of an arguably much greater weight than Ronaldo: his first goal in a major international tournament, ending a 676-minute drought.
He was slippery and uncontainable for Argentina's flat-footed defense and concluded a fine attacking move with a tap-in after 19 minutes. Later, when he looked exhausted after hassling the backline, infiltrating channels, and dribbling at opponents for just over 70 minutes, he somehow found the energy to topple Nicolas Otamendi and Juan Foyth with a powerful and determined run before unselfishly teeing up Firmino. It was a splendid assist.
Being a wide forward isn't necessarily the future for Jesus, but it's easy to forget that he's just 22 years old. He's already wearing the No. 9 at Copa America with greater distinction than anyone since Ronaldo and is playing himself into form amid the stress of Neymar's setback and Tite's pressure. He's proving his maturity and mental toughness.
Now, he has an opportunity to shrug off the shirt strain for good. With a starring role in Sunday's Copa America final against Peru, he can define a modern Brazilian No. 9 as an attacker who relentlessly squeezes opponents' backlines while cropping up in a variety of positions. In short, Brazil's No. 9 can be in his image rather than another fruitless attempt to mimic the pace, physicality, and technical ability that allowed Ronaldo to be a generational and wonderfully unique talent.
Jesus can be the emblem of a new Brazil era. At five years Neymar's junior, he can be his national team's main protagonist for the next decade.