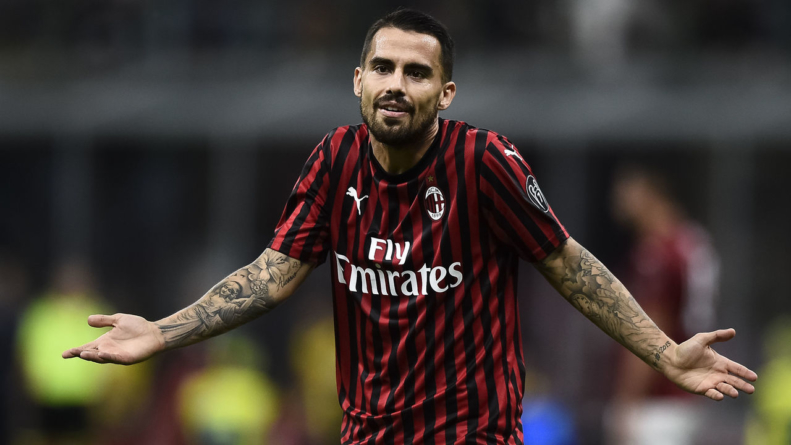 Inside Europe: AC Milan's decline shows no sign of stopping
Welcome to NewsFromSport's weekly column on European football. Every Monday, Anthony Lopopolo will break down the weekend that was in the continent's top leagues.
With 10 minutes to go, the Curva Sud left the San Siro, thousands at a time. A boisterous fan group, it had spent the entire second half cursing at the players. "This club doesn't deserve us," they chanted. Then they took to the exits. There was no more to see. AC Milan surrendered without a fight, slipping to a fourth defeat in six matches and their worst start to a season since the 1930s.
It takes a special kind of ineptitude to sink this low. Milan fielded all sorts of bad teams over the past few years, but none inspired such venom from the fans. The whistles were deafening Sunday and the chants full of expletives.
Milan couldn't even finish the game without getting a red card. On top of playing some of the most insipid, ineffectual, and anemic football that multi-million-euro professionals can play, this group has displayed a shocking irreverence for the rules. It's devoid of ideas and unhinged. Only Mallorca and Deportivo Alaves have fired fewer shots on target in the top five leagues than Milan. No team has accumulated more red cards.
The slow death of one of football's great institutions continues unabated. The club has tried everything to stop the rot, but it's so complex and so deep-seated that no one fix is sufficient. Milan may not have the squad to compete for a Champions League spot or a good enough manager to get the most out of limited players, but more worryingly, the club is missing leadership, personality, and courage. These things are difficult to buy. They're even more difficult to coax on the go.
The comments after Sunday's capitulation were revealing. Manager Marco Giampaolo and executive director Paolo Maldini both agreed that the pressure is getting to these young players. Maldini said the risk of assembling an inexperienced core was precisely this: a team crumbling under the weight of expectation.
It was Elliott's mandate to build a young team. After assuming control of the club from disgraced owner Li Yonghong, the U.S. hedge fund made it clear that Milan would start again with a new generation of players. Perhaps the corporation saw young talents as assets that could later be sold for a profit. But football isn't a regular business venture. Teams need leaders and a presence in the dressing room. They need intangibles like character to thrive. Elliott is currently pursuing a project that doesn't fit Milan's needs. Results are the lifeblood of any club, not least one with a jersey as cumbersome as the red-and-black strip and a paying public as demanding as these fans.
Milan can't possibly ask supporters to be any more patient. They've withstood years of embarrassment, only to get knocked down time and again. That's why this club needs people who are qualified and who are ready to deliver. Giampaolo was never going to get the time he needed to implement his vision of attacking football, and the early returns suggest he doesn't have the personnel to execute it. Milan have players who are simply not good enough – Hakan Calhanoglu's wayward passing on Sunday was incriminating – but also talented players who lack the mentality to express themselves in such heavy conditions.
Giampaolo said the absolute need to win weighed on his team, and it's true that the expectation of winning can have a suffocating effect. A team like Atalanta can play with greater freedom because it doesn't carry the same burden. Put those same players in the crucible that is Milan and many would fall apart. The creativity would go missing and the goals would dry up.
Negativity begets negativity, and that unending cycle chews up well-intentioned people. That's why it's so important for a club like Milan to have ready-made players, coaches, and staff who have the spine to cope with the stress and find solutions in the crossfire. Because when the basic requirement of winning ceases to exist, so does Milan's prestige.
It beggars belief how Milan could allow Antonio Conte – a manager who has won in similarly taxing situations – to join crosstown rivals Inter. Conte has already corrected Inter's once-fragile mentality and put them on a path to redemption, while Giampaolo has cut a lonely and antagonizing figure to a fan base frothing at the mouth.
Until this team recognizes the warning signs, the fans' hopes and dreams will continue to circle the drain.
Further reading
Are Granada for real?
After seven matches, Granada are second in the La Liga table, sitting just a point behind unbeaten Real Madrid. It's unlikely Granada will stay up there for long, but they deserve their moment in the limelight. The win over Barcelona was a tour de force that showed Granada's defensive merits. The Andalusian side also takes its chances well, consistently doing damage without the lion's share of possession. Manager Diego Martinez has been in football long enough to know that moments pass, so the object remains survival.
Can Slimani keep it up?
With a hat-trick of assists against Brest and a fourth goal in five appearances, Islam Slimani has shown signs of life in Monaco. He's impressed with his hold-up play, at one point taking on three defenders before threading a perfect pass to Aleksandr Golovin in the penalty area. Slimini's career was sidetracked by unsuccessful spells at Leicester City, Newcastle United, and Fenerbahce, but now his confidence seems to be restored.
What's happening in Portugal?
A newly promoted club that draws just a few thousand fans is leading the Primeira Liga. Famalicao are unbeaten through seven matches, which is something neither Benfica nor Porto can say about themselves. Famalicao were toiling in the fourth division as recently as 2009, and they last played in the top flight in 1994. It helps to have the support of superagent Jorge Mendes, who's brokered several transfers on Famalicao's behalf, but the story is too good to ignore.