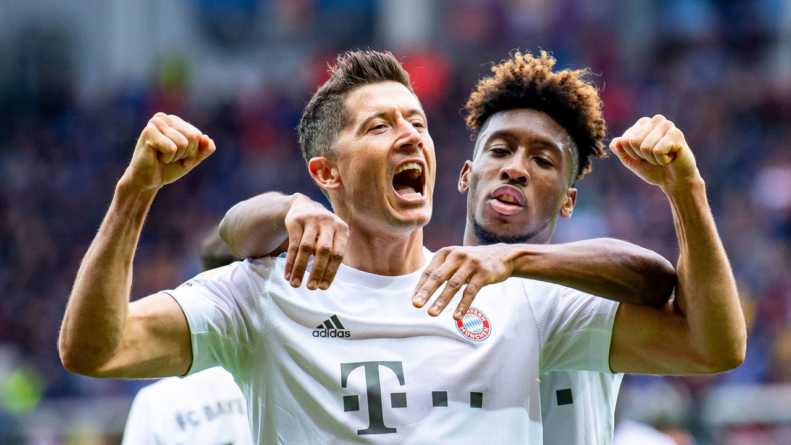 Inside Europe: How Lewandowski became Europe's best striker
Before scoring, Robert Lewandowski usually looks up and surveys the field ahead. He sees where he has to go and then hits the throttle. It's how he beats defenders and finds pockets of space.
Lewandowski isn't like other strikers. He's not the most efficient or even the most lethal in the penalty area. But he anticipates better than anyone else at his position, routinely putting himself in positions to score. No one in the last half-decade has attempted more shots than Lewandowski in the Bundesliga. It's not even close.
Now he has 23 goals in all competitions. Most of his contemporaries would settle for that over the course of the season, let alone in the first few months. He's scoring like Lionel Messi and Cristiano Ronaldo in his prime, turning the extraordinary into a weekly occurrence. He's bagged goals in each of Bayern Munich's first 11 league matches and he's on pace to break Gerd Muller's single-season scoring record, which Muller set at the age of 40 during the 1971-72 Bundesliga campaign.
Lewandowski has always been one of Europe's best strikers, but never this good. That this historic run of form has come at a period of deep introspection and turmoil at Bayern is even more peculiar. Niko Kovac was fired at the beginning of November, Uli Hoeness is resigning at the end of the month, and injuries continue to besiege the first team.
Lewandowski has been the only constant. Maybe it's because of the club's early-season struggles that he feels compelled to do more than he has in previous years.
Pep Guardiola, who was Lewandowski's coach for three years, would appreciate just how much he's working for the team. Instead of waiting for chances to fall at his feet, Lewandowski has dropped deeper and facilitated possession, holding up play in midfield to allow his teammates time and space to receive the ball in more advantageous positions. Averaging more than 40 touches per game in the Bundesliga, Lewandowski has taken matters into his own hands.
The additional workload hasn't distracted him from his primary objective. He's still finding the time to infiltrate the penalty area and get in behind the defenders. Around 83% of his shots still come from inside the 18-yard box. Because he can turn on the afterburners – he can easily hit a top speed of 31 kph (19 mph) – it's easy for Lewandowski to make up ground. If he didn't have the legs, he wouldn't have the time to recover his original position further up the field.
Take his first goal against Hertha Berlin in August. Lewandowski controlled possession in his own end before laying off the ball and racing into open space to convert Serge Gnabry's eventual cross. It only took several seconds for the Polish international to get up and down the field.
Like a predator in waiting, Lewandowski plans his moves in advance. That foresight enables him to get into dangerous areas. When he rolls off the shoulders of his opponents, he's almost impossible to stop.
He struck again on the weekend against his former club, Borussia Dortmund, using that pace to decimate BVB's backline. The second of his two goals came after an extraordinary sequence that showed Lewandowski at his absolute best.
As Manuel Neuer's long ball came crashing down and teammate Ivan Perisic braced for a header, Lewandowski prepared for it to come in his direction. Perisic successfully nodded the ball in Lewandowski's path, but because he was already on his way toward goal, he had an advantage over his marker.
After an impressive show of strength – Lewandowski shielded the ball from Achraf Hakimi and sent the Moroccan tumbling to the ground – the 31-year-old passed it off to Thomas Muller and snuck inside the area to make it 3-0.
Lewandowski has never been as devastating in front of goal as he's been this season, converting 30% of his shots so far in the Bundesliga. That's the highest rate he's managed since joining Bayern in 2014. He's put away opportunities he would've missed in previous years.
| Season | Goals | Shots | Conversion rate |
| --- | --- | --- | --- |
| 2019-20 | 16 | 52 | 30% |
| 2018-19 | 22 | 144 | 15% |
| 2017-18 | 29 | 127 | 22% |
| 2016-17 | 30 | 143 | 20% |
| 2015-16 | 30 | 152 | 19% |
| 2014-15 | 17 | 104 | 16% |
Lewandowski has maintained his status as an elite striker because of the sheer volume of shots he takes, not because of his finishing ability. As recently as March – in a 5-1 win over Borussia Monchengladbach – Lewandowski flubbed five clear-cut scoring chances. He still finished the night with a brace.
By making himself available in the penalty area, he's created endless opportunities to fire attempts at goal. He's just converting more of them than ever before.