La Liga sets potential restart dates as Spain remains in strict lockdown
Find out the latest on COVID-19's impact on the sports world and when sports are returning by subscribing to Breaking News push notifications in the Sports and COVID-19 section.
La Liga president Javier Tebas has proposed three potential dates for Spain's top flight to return despite the country still being under lockdown due to the coronavirus pandemic.
"Of all the different scenarios we have been looking at with UEFA to go back to competing, the most probable ones are May 28, June 6, or June 28," Tebas said, according to BBC Sport's Simon Stone.
Tebas appreciates that the future of La Liga's 2019-20 campaign lies in the hands of Spanish health authorities and that training cannot restart until emergency measures are lifted. Spain will remain under strict confinement rules until April 26 at the earliest, but there have been encouraging reductions in deaths, hospital admissions, and critical care cases in recent days.
However, Spain has recorded the second-highest COVID-19 death toll in the world, with nearly 14,000 fatalities.
Tebas is "not considering" scrapping the soccer season despite the fear that grips the Iberian nation and claims no "big or medium" league across Europe is considering annulments of their respective 2019-20 campaigns. He said La Liga clubs could lose a total of €1 billion if the term is canceled.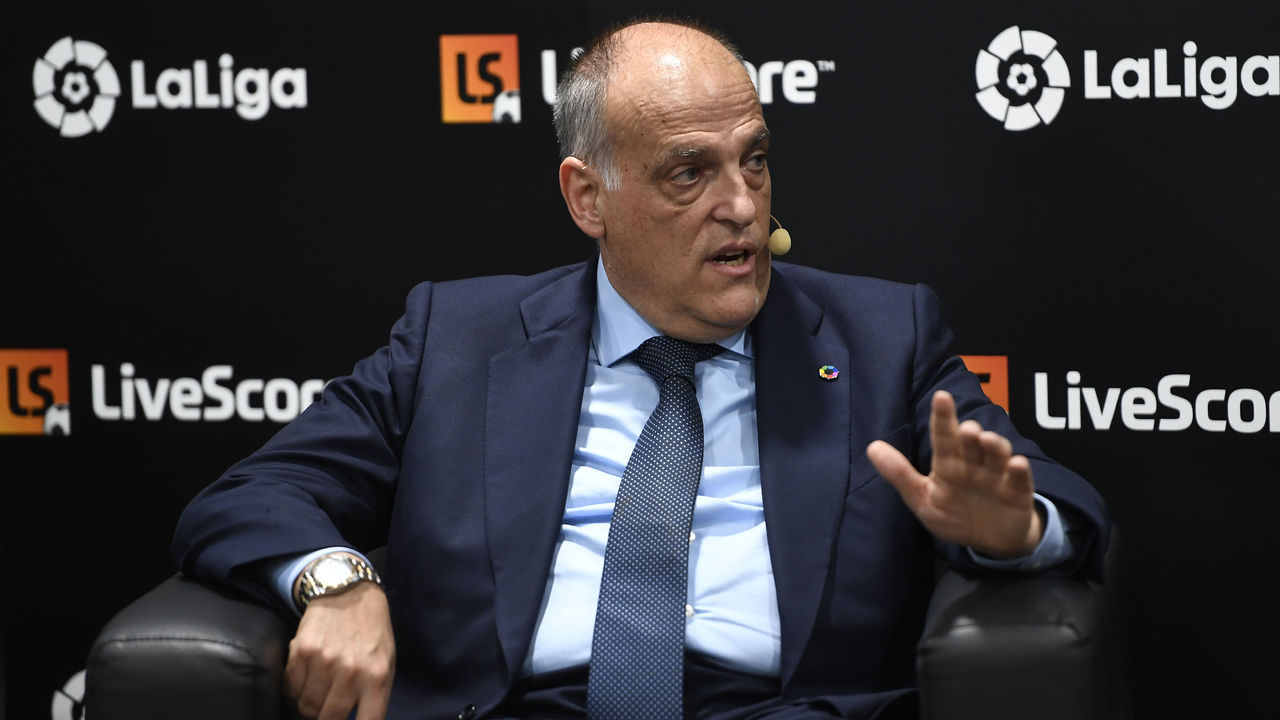 The likeliest way for La Liga to conclude its season is to host matches behind closed doors, a scenario which could cause a financial shortfall of around €300 million.
Tebas believes soccer should have an opportunity to return before other entertainment forms due to its contribution to the country's gross domestic product, its ability to be played without fans but viewed on television, and the number of people La Liga employs.
"The last business that will return to normal are theatres, cinemas, shows that people attend. We are an industry like that too but we can also restart part of our activity without people because the fundamental part of our income comes from TV," he said. "So, it's not a case of us getting special treatment; it's that when we return, we will be able to do so in a way that allows us to exploit part of our business.
"I think that's our obligation and the obligation of the government too as we're talking about an industry that accounts for 1.37% of GDP and which directly and indirectly creates 180,000 jobs. We shouldn't just look at this as players and teams; this is an industry."
Tebas revealed that three medical teams have been exploring "a return to training which involves the possibility of doing coronavirus tests and isolation in dressing rooms" over the past two weeks.