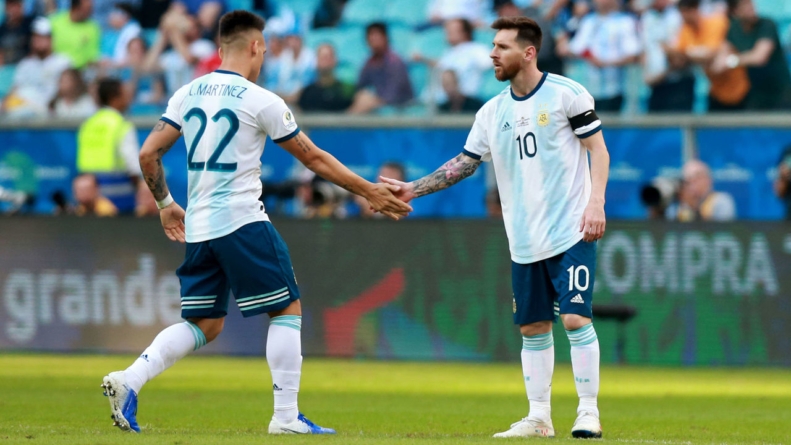 Lautaro Martinez offers Argentina better future at desperate time of need
Argentina has a lot of problems. Lionel Messi can't find his groove, the country's football federation can't find a decent coach, and boardroom executives can't agree on a path forward. It's easier to spot what's wrong with Argentina than it is to find what's right.
The one saving grace is Lautaro Martinez, the 21-year-old striker who has the personality and skill set to lead La Albiceleste into a new era.
In only 10 appearances for the national team, Martinez has scored six goals and fought his way into the starting lineup. He's become a protagonist at the 2019 Copa America, providing the tenacity Argentina's lacked for far too long.
Martinez is nicknamed "El Toro" for a reason. With a hulking frame and quick feet, he charges at defenders and bullies his way through traffic. The energy is refreshing.
"You just need to look him in the eyes and you can tell he can take on everything," Luciano Spalletti, who coached Martinez at Inter, said in March.
It's easy to look at Martinez and see the raw talent. His bruising presence is clear – see all of his yellow cards – but much more lies beneath the surface. He's old school and modern, timely and tactical, in the right place at the right time and everywhere at once. You'll see him scoring goals, pressing from the front, and helping out at the back.
It just took time for Argentina to notice. Jorge Sampaoli liked Martinez enough to compare him to the great Gabriel Batistuta, but not enough to call him up to his World Cup squad. Lionel Scaloni, Sampaoli's successor, liked Martinez enough to bring him to Brazil for the Copa America, but not enough to start him.
Scaloni only turned to Martinez when things turned sour. In a must-win match against Qatar last Sunday, Martinez took Angel Di Maria's spot and delivered, setting the tone with a goal in the fourth minute of an eventual 2-0 win. The victory sent Argentina to the Copa America quarterfinals, and more importantly, kept the critics and toxic negativity at bay.
Everything happened so quickly. Suddenly, Lautaro Martinez has become the darling of the national team – even more important than Messi. Martinez inspired Argentina at a time of need and stood out in a front three with Messi and Sergio Aguero.
In the quarters, the Venezuelans handled Messi easily, dispossessing him on the regular, but didn't stand a chance against Martinez and his uncompromising drive. He scored a backheel goal and chased loose balls. Argentina won, and it was fun to watch.
It may too be a welcome sight for Messi, who may finally have someone to share the burden with. Messi's international teammates have let him down for years. They'd sit back and expect their diminutive playmaker to solve everything by himself. But Martinez can help. By drawing a crowd away from Messi, El Toro can give one of the greatest of all time the space to do things he loves to do.
It also means Messi can have a bad game in relative peace. With or without his heroics, Argentina can still win. The victory over Venezuela proves that.
Even if it doesn't go any further in the Copa America, Argentina finally has something to celebrate: a striker who can do damage on the international scene and a potential partner in crime for its encumbered star.