Leicester City's iconic 2016 title run was beautiful and surreal
Following our recent series on the best teams never to win a championship, we're flipping the concept. This series will examine a selection of the most unlikely teams to reach the mountaintop. These teams can be ones that got hot at the right time, or those who belong to franchises that have not often tasted the Champagne of champions. Previous entries covered MLB, NHL, NFL in 2001 and 2002, NBA in the 1970s and 2010s, college football, and college basketball.
Leicester City, Premier League champions. Four years later, it isn't any less surreal. Leicester City. Seriously. How?
Every professional sport on the planet is dominated, to some degree, by a select few franchises, even if the elite are cyclical in North American leagues. European soccer, though, takes things to another level. With no real spending cap in place – Financial Fair Play rules have made little to no tangible impact on the sport's ever-growing power imbalance – the glitterati enjoy a stranglehold on the game. The big fish always eat the little fish. And if for some strange reason they can't, they just flex their financial muscle in the transfer market. Problem solved, and the cycle goes on.
Before Leicester's infamous triumph in 2015-16, the Premier League era – which began in 1992 – had only produced five champions: Manchester United, Blackburn, Arsenal, Chelsea, and Manchester City. That's it. Blackburn are the obvious outliers, but even they were led by Alan Shearer, the most prolific goalscorer in Premier League history, in the prime of his career.
Leicester, on the other hand, had a sinewy 29-year-old who was playing in the fifth tier of English soccer before joining the club in 2012. Until that point, Jamie Vardy's ability to polish off bottles of Skittles vodka outweighed his penchant for scoring goals.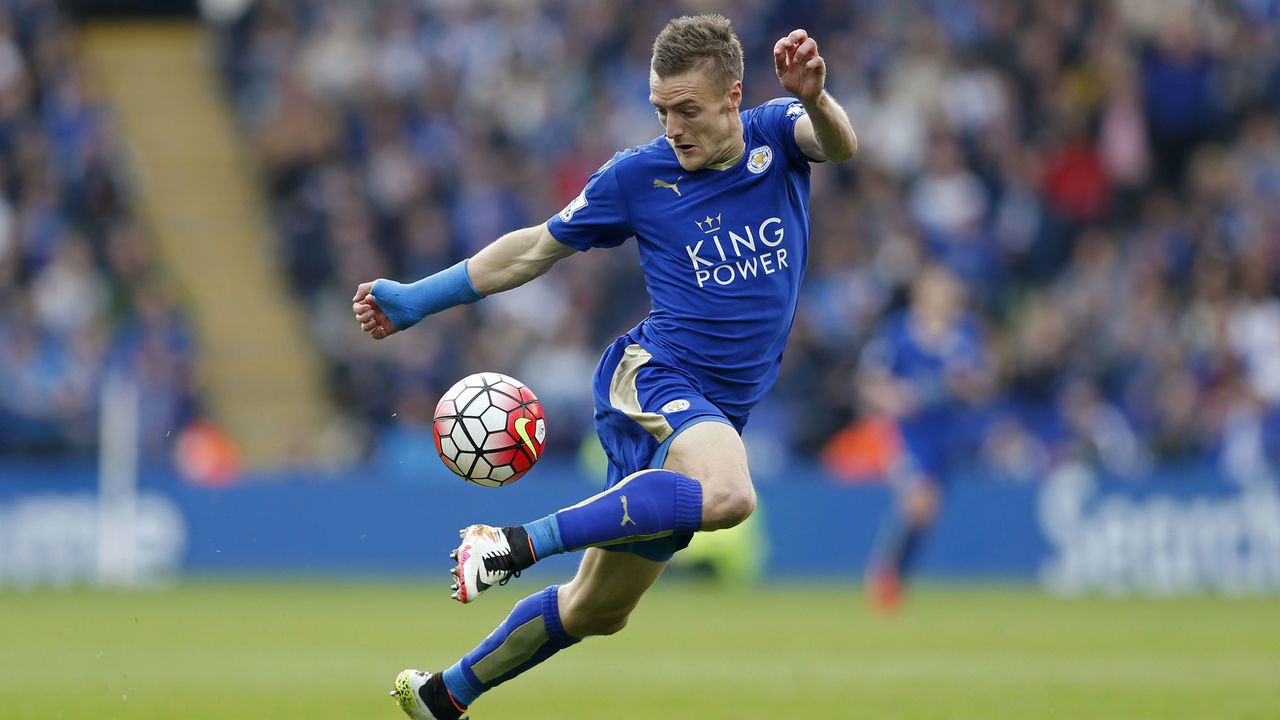 Pedigree didn't exactly seep from this group.
The entire squad cost a mere £54.4 million to build. The starting XI was worth £22 million. While the perennial powers were splurging on haute couture – Manchester City spent roughly £55 million on Kevin De Bruyne in the summer of 2015 – Leicester were plucking players from the lost and found.
N'Golo Kante, the indefatigable and diminutive Frenchman who would eventually be recognized as a one-man midfield wrecking crew, arrived from Caen for £5.6 million; Riyad Mahrez, the Algerian winger built like a string bean, had joined the club in 2014 for a fee believed to be less than £1 million. Left-back Christian Fuchs arrived on a free transfer after being discarded by Schalke. Shinji Okazaki was Leicester's marquee signing in the summer of 2015. He cost them just over £7 million.
In captain Wes Morgan and former Chelsea misfit Robert Huth, the heart of Leicester's defense featured two aging, immobile center-backs who each had the turning radius of an ocean liner. On paper, this team had no business being good, never mind challenging for trophies.
As if that wasn't enough, they were guided by a journeyman manager who had never before won a top-flight league title.
It's easy to forget now that he's revered as the architect of this great Cinderella story, but the mild-mannered Claudio Ranieri arrived in the East Midlands as the prototypical lovable loser.
The Italian, then 64, had coached 14 different clubs during a nomadic career before he was given the keys at the King Power Stadium. He had won several cup competitions and second-tier titles prior to his gig with the Foxes, but never a top-flight championship. Though he came close on four separate occasions, he always managed to fall short. If anything, Ranieri – dubbed the "Tinkerman" thanks to his penchant for constantly chopping and changing his lineup – appeared to be on the decline; before joining Leicester in 2015, he was fired as manager of the Greek national team following a disastrous stint that included a home loss to the Faroe Islands.
Suffice it to say, his appointment wasn't popular.
Taking all of this into consideration, it's no wonder Leicester were famously installed as 5,000-1 underdogs to win the Premier League title going into the season. Even if you had cash to burn, it was a crazy proposition; at least one English bookmaker at the time offered those same 5,000-1 odds on Elvis Presley being found alive.
A dead man re-emerging after 38 years in the grave, or Leicester City winning the Premier League? Six of one, half a dozen of the other.
"This is actually impossible," Gary Lineker, the Leicester hero who played for his hometown club and helped save it from financial ruin after his career was over, would later say of the Foxes' title win.
"There were no odds that I would have taken at the start of the season. No odds. You could have given me 10 million to one and I'd have said 'Nah, it's a waste of a quid.'"
It's hard to blame him. Beyond the raggedy squad and uninspiring managerial choice, Leicester had over 100 years of futile history with which to contend: their best top-flight finish ever was a second-place showing … in 1929.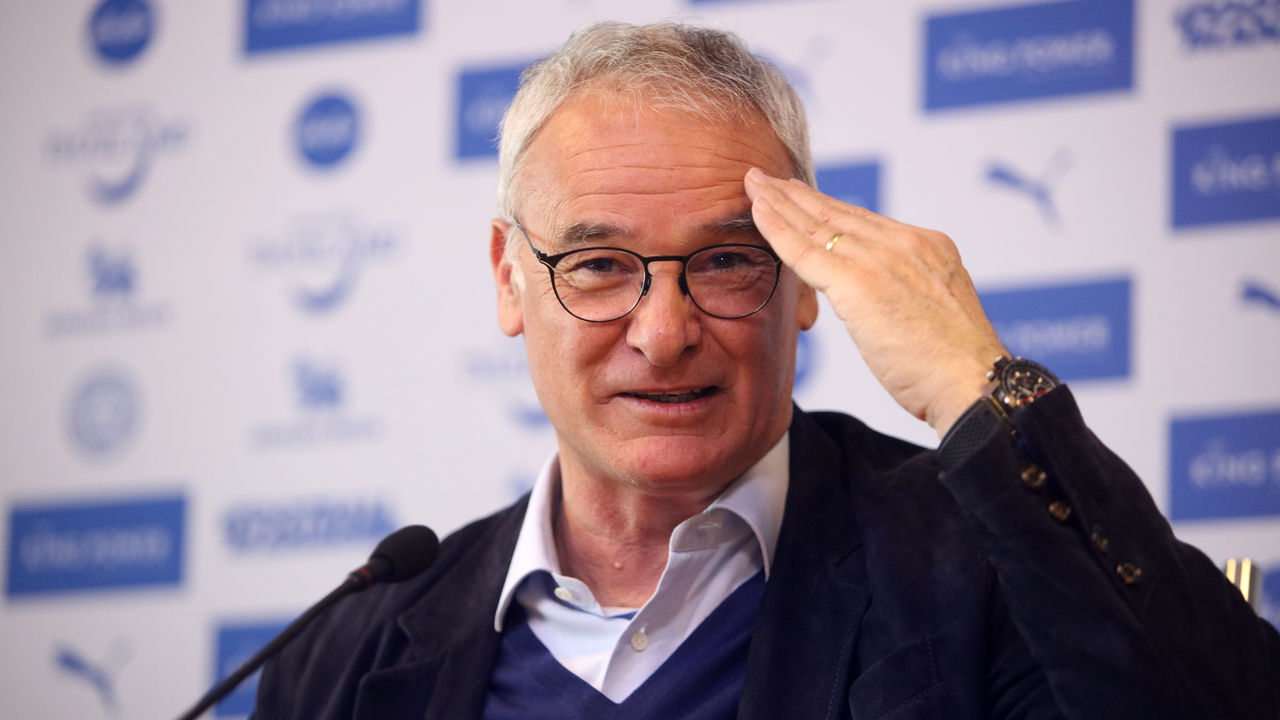 What's more, the club entered the 2015-16 campaign having barely escaped relegation the previous year. The 2014-15 season, Leicester's first back in the Premier League after a decade, was miserable. They endured three separate losing streaks of four matches or more, and they spent 19 weeks – half the season – stuck in last place. Sitting dead last in late March, the team reeled off seven wins in its last nine matches just to avoid the drop. Nigel Pearson was promptly fired, Ranieri took his place, and Leicester were fully expected to be mired in the relegation dogfight once more.
Despite a solid start to the new season, a 5-2 hammering at the hands of Arsenal in late September appeared to confirm what everyone knew in their bones: Leicester couldn't hang with the big boys.
Well, about that.
Spurred by Vardy's record-breaking 11-match scoring streak, Leicester surged, incredibly, to the top of the table. When Mahrez scored an outstanding goal to sink reigning champions Chelsea in December, twisting and turning Cesar Azpilicueta into a pretzel in the process, one started to suspect something special could be brewing.
A brief wobble followed that indelible moment. Leicester won just once in five matches from late December to mid-January, briefly dropping into second place. But Ranieri remained calm, trusting the counterattacking tactics and personnel that had lifted his team to that position in the first place.
The old-school 4-4-2 formation was no longer sexy, but it perfectly suited this hardworking group.
Ranieri, who seemed almost embarrassed by Leicester's success, did absolutely everything in his power to publicly downplay their title chances and keep expectations in check. Eventually, even he couldn't deny what was happening.
After retaking top spot with a 1-1 draw against Aston Villa on Jan. 16, the Foxes never looked back.
"We're gonna win the league," traveling fans chanted after a 1-0 away win over Crystal Palace on March 19. For the first time in the club's 132-year history, that cry wasn't in jest or wildly out of place. It was real. The fans knew.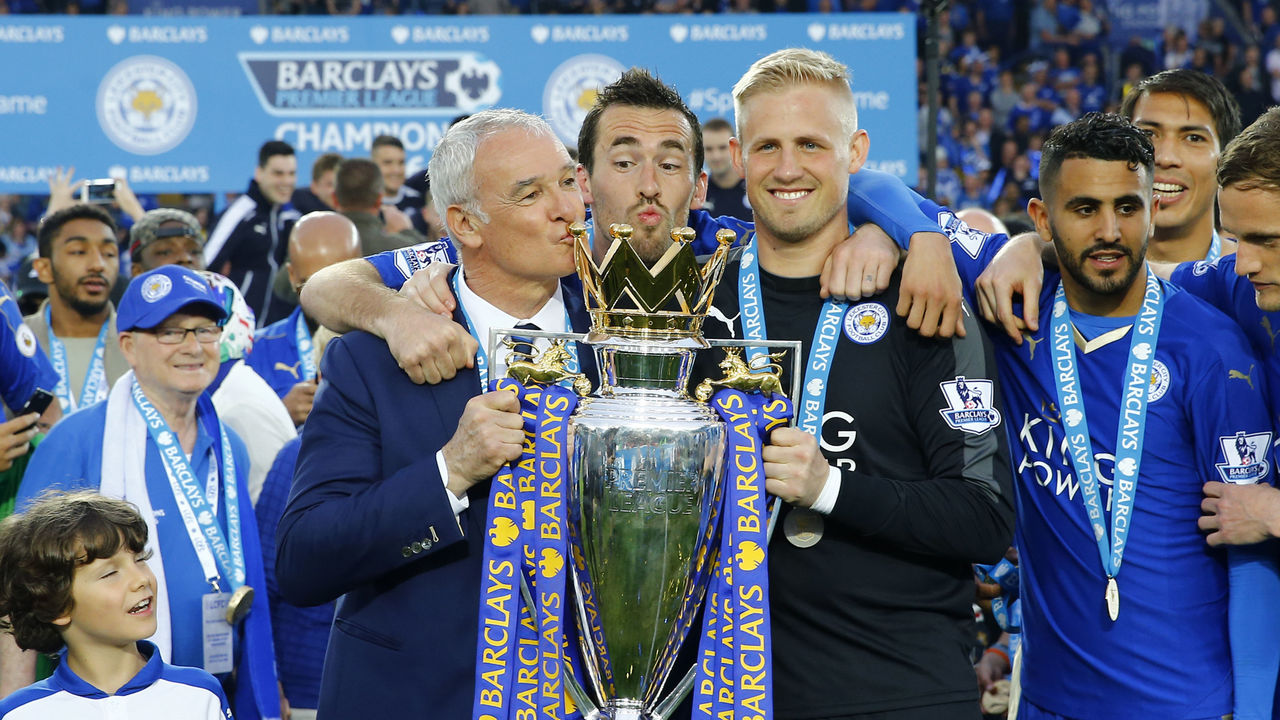 There had been unlikely champions before, of course.
Greece rode Angelos Charisteas' head to a shocking triumph at Euro 2004; FC Porto gatecrashed the Champions League party that same year; Nottingham Forest won the English top-flight title in 1977-78, their first season after earning promotion. But those achievements, improbable and incredible as they were, came with relative caveats. Greece and Porto needed only to navigate knockout tournaments: The former played six matches before getting its hands on silverware, while the latter had to survive just 10 games. Brian Clough's legendary Forest team, meanwhile, didn't battle anything close to the gigantic financial discrepancy that is a staple of the modern game.
Leicester had to maneuver the potential pitfalls of a 38-match league campaign against some of the wealthiest opponents the sport had seen to that point. They did it with aplomb.
"Shades of Ipswich Town in the 60s and Nottingham Forest in the 70s, but this is unique," commentator Martin Tyler said during the club's trophy presentation. "A modern day football miracle."
Naturally, there were elements of luck along the journey, as is the case for any championship-winning team. For Leicester, that luck came primarily in the shape of an unusually clean bill of health.
Whatever voodoo Ranieri used to ward off the injury bug, it worked.
Morgan didn't miss a single minute of action all season. Mahrez, the eventual PFA Player of the Year, and Kante both made 37 of a possible 38 league appearances. Drinkwater and Huth racked up 35 each. Vardy started 36 games and would've surely played all 38 if not for a two-match suspension stemming from a red card in mid-April. Lord knows he had the energy.
"This is not a footballer," Ranieri said of the English striker. "This is a fantastic horse."
As Leicester continued to defy the odds with each win, their biggest title rivals – the teams one would actually expect to see fighting at the top of the table – capitulated one by one. Chelsea imploded, firing Jose Mourinho mid-season before slinking to a 10th-place finish. Arsenal blew their best title chance in years. Tottenham faltered down the stretch, as they were wont to do. Both Manchester clubs were wildly inconsistent.
It was the perfect storm, and it culminated in a goosebump-inducing moment ahead of the penultimate match of the season. Leicester, already confirmed as champions, turned their final home game into a celebration.
Standing on a podium in the center of the perfectly manicured pitch, Ranieri watched with tears in his eyes as his compatriot and friend, Andrea Bocelli, performed at the King Power Stadium. While serenading the crowd, the renowned tenor removed his hoodie to reveal a Leicester shirt. You can't make this up.
It was beautiful and surreal. A perfect encapsulation of Leicester City's title-winning season.