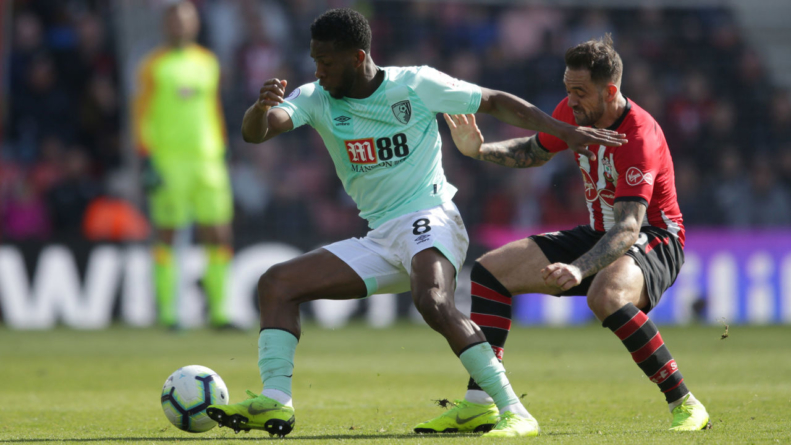 Lerma's combativeness an asset for Colombia, but distrusted in England
Jefferson Lerma spotted an opportunity to overwhelm right-back Renzo Saravia behind Argentina's wilted midfield, so he accelerated. He overlapped Roger Martinez down the left, received the ball, and was turning to acknowledge the crowd before Duvan Zapata converted his precise delivery.
That sent a message to Colombia manager Carlos Queiroz. Though Lerma spent 64 minutes of Saturday's 2-0 defeat of Argentina on the bench, he should start for the remainder of Los Cafeteros' hunt for a second Copa America title. It will be difficult for Queiroz to overlook him for Wednesday's wrangle with Qatar.
There is, however, discord between the perceptions of Lerma in his homeland and in England, where he just concluded his inaugural Premier League campaign with Bournemouth. He appears to be a tailor-made, reliable, and selfless operator in Colombia's combative midfield; in England, meanwhile, his name is synonymous with indiscipline.
It's unlikely he would be thrust into a similarly vital role in Gareth Southgate's Three Lions squad if he was born in Elkstone rather than El Cerrito.
Focusing on his card tally, however, is a blinkered view. His statistics partly explain why he's so valued by club and country. Last season, Lerma lost possession the second-fewest times per 90 league minutes among Bournemouth midfielders, and he led all his teammates with 54 interceptions in the top flight – 10 more than Chelsea's N'Golo Kante.
His versatility and tactical intelligence are other key assets. He wasn't utilized as a right-back during the 2018-19 club campaign, but he was deployed there early in his international career. Even when he battles past the surplus of gritty midfield talent and into the Colombia XI, he often slides into a full-back position when winger Juan Cuadrado is high up the park.
His omission from the starting lineup to face Argentina was a surprise, but it was probably due to his passing. Though Mateus Uribe can't offer the same defensive graft as Lerma, his distribution is more expansive. Queiroz knew Argentina's toothless midfield and lead-footed defense was susceptible to counterattacks, and Uribe briskly searching for attackers from deep was arguably a better option than Lerma's simpler passes and ball-carrying abilities.
Still, during an international assignment in Brazil, he is stalked by criticism in England. Bournemouth concluded a congratulatory message about his international cameo on Twitter with the quip: "Oh, and he was also booked."
Lerma's boss at Dean Court, Eddie Howe, attributed Lerma's disciplinary issues to getting used to the English game. Initially, it felt like a poor excuse – Lerma was shown 16 yellow cards in four fewer league appearances for Levante in the prior campaign – but he cleaned up his act on the south coast. Lerma was cautioned 10 times in his first 15 Premier League appearances, but only three times in his next 15 outings.
"I don't think that's an issue," he said of his card accumulation earlier in June. "It's part of football and you can get a yellow card at any time.
"I got most of my bookings in very specific plays – tactical tackles to stop the other team's game. That's what I had to do and I take it with responsibility. I did not want to get the cards but that's football."
Lerma's assessment rings true. According to stats from Squawka, the Atletico Huila product received one yellow card for a verbal issue and none for diving or a bad tackle. His yellow cards were usually for the team and Fernandinho-esque: tenacious, tactical, illegal. He wasn't sent off in the Premier League or any of the domestic cup competitions.
"There will be no surprises for him next season and that will be a very healthy thing for us," Howe said when noting Lerma's improvements last week, according to the Daily Echo.
Lerma learned referees' boundaries in his first English term, and that will aid his attempts to tidy his defending. But there may be more to Lerma than that. Skeptical pundits are overlooking the 24-year-old's current qualities, and also – judging from the driving run and assist against Argentina – the formidable two-way midfielder he could become.