Liverpool's proposed Anfield expansion on hold due to COVID-19
Liverpool's proposed development of the Anfield Road stand has been postponed, with its potential unveiling delayed until the summer of 2023 at the earliest.
The club wanted to submit its planning application for the project in spring of this year before the 18-month expansion process began in December, but the United Kingdom's coronavirus lockdown has put those plans on hold. The schedule has therefore been pushed back by a year.
"The complex build must be completed between seasons and therefore the impact is at least a 12-month pause," the club statement explained.
The club's aim is to expand the stand by around 7,000 seats, the majority of which would be available for general admission. The renovation cost would be around £60 million, according to the Guardian's Andy Hunter.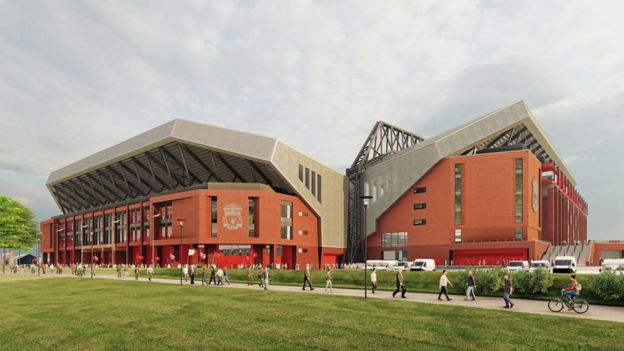 (Source: BBC Sport)
The expansion is expected to raise Anfield's capacity to over 61,000, meaning it would be the Premier League's fourth-largest stadium after the homes of Manchester United, West Ham United, and Tottenham Hotspur. Arsenal's Emirates Stadium holds 60,260.
Liverpool chief operating officer Andy Hughes revealed the project had already experienced a number of delays due to COVID-19. He said there is now no deadline for the planning application, so it will be submitted at some point in the next 12 months. Further updates will be available when the crisis begins to subside.
"We understand this is disappointing for many, as it is for us, but would like to thank all our key stakeholders, including local neighbors in Anfield, our supporters, the City Council, and others for their great cooperation in the pre-planning stages," Hughes said.
"Our priority remains on the health and well-being of our people, the local community, and supporters at this challenging time. Our thoughts are with all those affected by COVID-19."