Manchester City's season was a hot mess before 'Agueroooo' saved the day
Mario Balotelli was in one of those moods. He tackled opponents like he was stomping down cardboard boxes as the recycling truck neared his front drive. His needless hack at Bacary Sagna soon after Mikel Arteta's late Arsenal winner resulted in a second yellow card, but he should've been sent off much, much earlier.
"I'm finished. We have six games left and he will not play," then-Manchester City manager Roberto Mancini said.
The 1-0 loss in April 2012 seemed to surrender the title to Manchester United – and City had themselves to blame. Mancini's side served their great rivals a 6-1 humiliation at Old Trafford earlier that season, but following the Balotelli disaster, BBC Sport's Phil McNulty believed it would "require a demise of epic proportions" for Alex Ferguson to miss out on a fifth Premier League crown in six years.
He was right: United were eight points clear after 32 matches and in irresistible form. City, meanwhile, were tending to wounds from a self-destructive campaign.
Treated 'like a dog'
Today, the 6-1 humbling of United in October 2011 is looked upon as a changing of the guard; the Cottonopolis' poor relation – the club that was in the third tier when United collected their 1998-99 treble – had spent wisely and, with that victory, finally established itself as Manchester's preeminent force. The truth is, City were unraveling behind the scenes.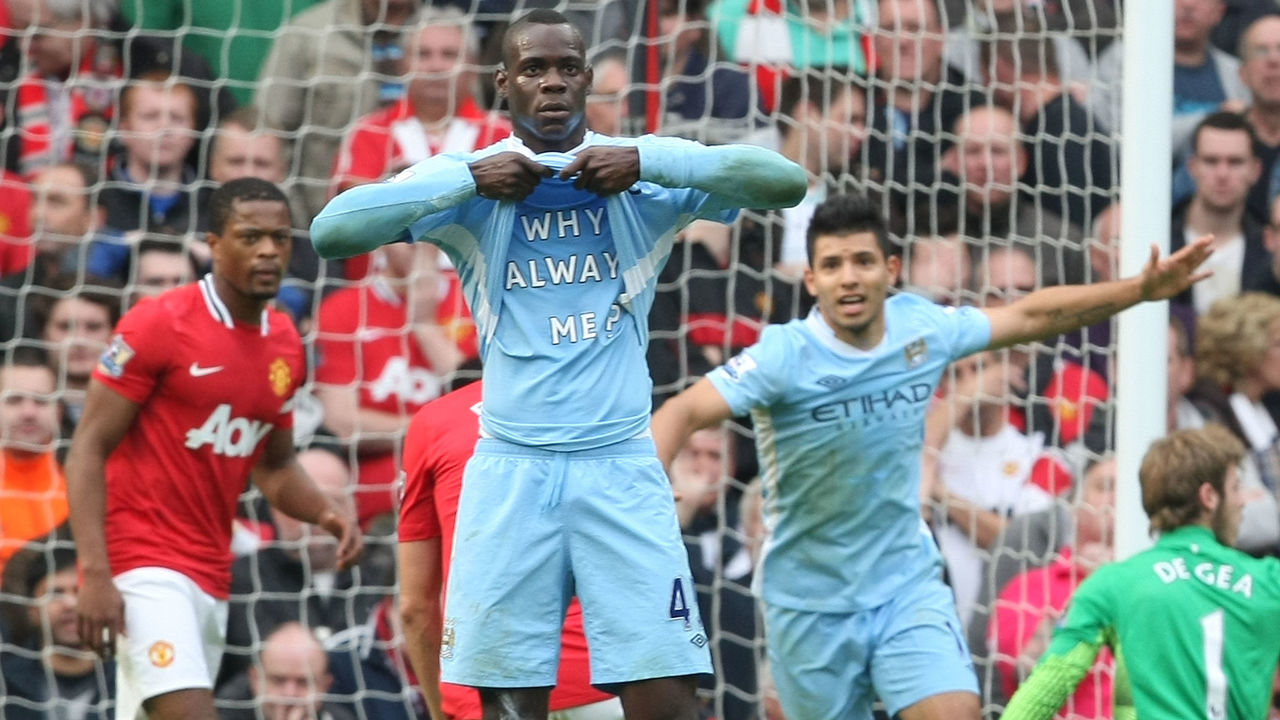 Tabloid newspapers feasted on Balotelli's behavior since his 2010 arrival. He crashed his car on the way to training while apparently carrying a huge wad of cash; he threw darts at youth-team players from a training ground window; he visited a women's prison on a whim; the day before his iconic celebration in that famous derby win, a floor of his house was ablaze after he set off fireworks in his bathroom.
But Balotelli hadn't yet threatened City's title pursuit. Instead, Carlos Tevez was the problem.
Tevez and Mancini had a difficult relationship. Tevez revealed he and the manager almost came to blows following a fortunate 2-1 home win over Newcastle United in October 2010, when Mancini was dealing with the stress of his father being ill back in Italy.
The following season, Tevez was stripped of the captaincy after unsuccessfully pursuing a summer transfer and expressing his distaste for the city of Manchester. The Argentinian had started only two matches – a League Cup visit from Birmingham City and a top-flight meeting with Wigan Athletic, in which he missed a penalty – when he was named among the substitutes for a Champions League tie at Bayern Munich on Sept. 27, 2011.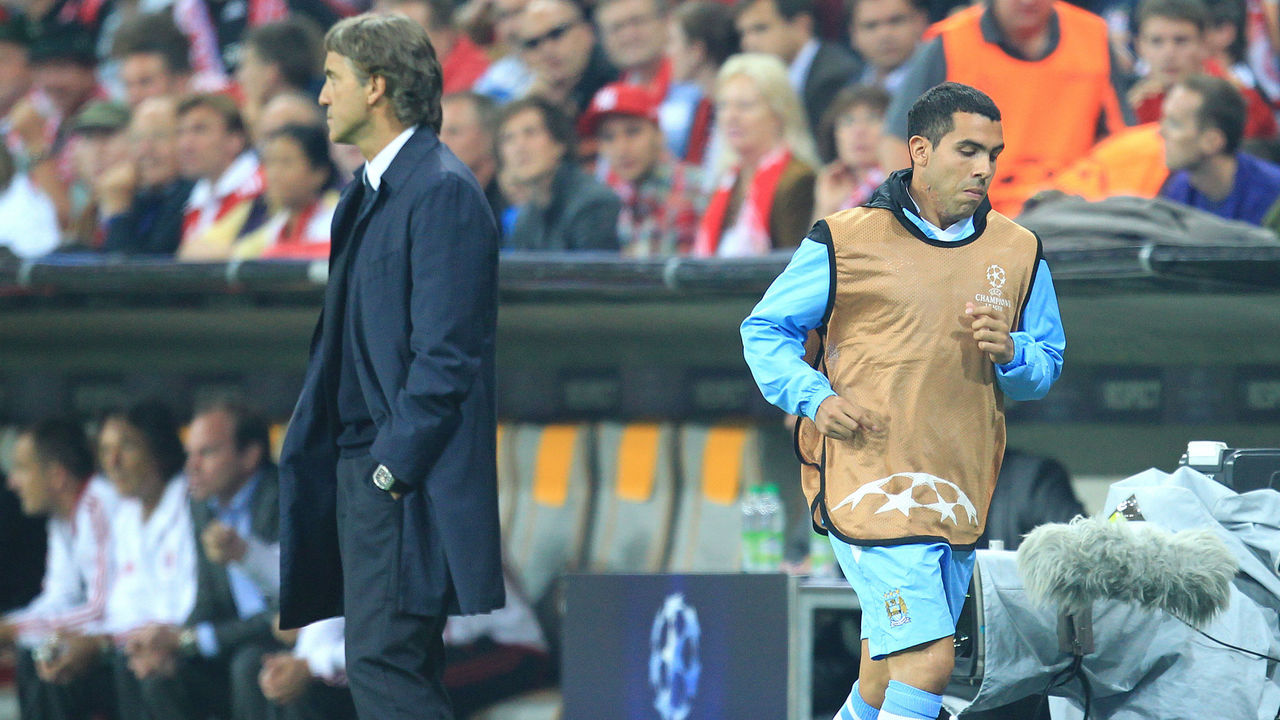 Mancini claimed Tevez refused to play when he was summoned from the bench. Tevez said he didn't understand the point of warming up again when he had been doing exactly that for the past hour. Mancini and Tevez's discordant duet had reached its crescendo. The forward didn't play for six months, missing 35 matches in all competitions as he frequented golf courses in his homeland.
Tevez said Mancini had treated him "like a dog." BBC Sport estimated the player lost £9.3 million through his suspended salary, £1.2-million club fine, and failure to earn a loyalty bonus.
'The race is finished'
A host of clubs were apparently interested in a January move for Tevez but nothing materialized, so he arrived back in Manchester in mid-February.
He described his mission to win back the fans' affection as a "nice challenge."
City had two more points than United when Tevez returned but, when he was restored to the matchday squad over a month later, it coincided with a slump that looked set to extend City's 44-year search for a league title. Tevez teed up Samir Nasri's winner against Chelsea to mark his first appearance back, but his next three substitute appearances were in draws to Stoke City and Sunderland and the damaging defeat to Arsenal, in which Balotelli challenged Tevez's place as public enemy No. 1.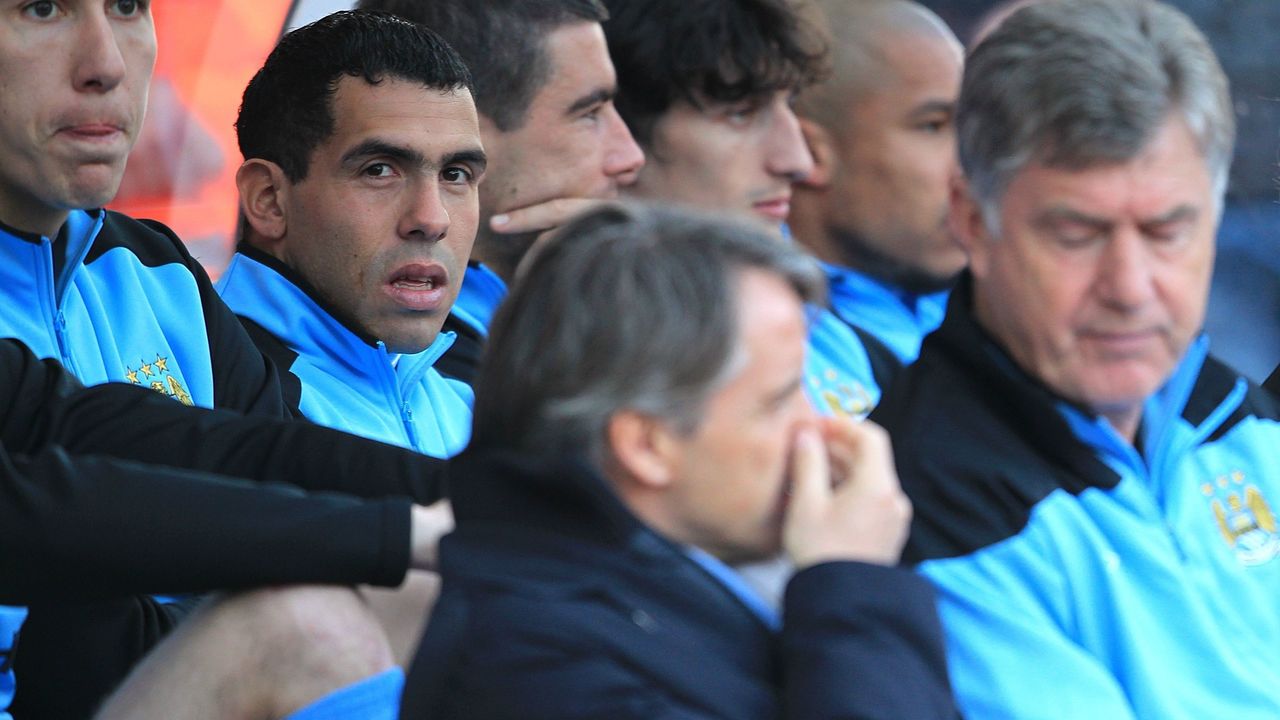 Dzeko was an unused substitute at Arsenal after failing to score in his previous seven appearances and Balotelli's antics incurred a three-match ban. So, unless Mancini was prepared to err from his two-man strikeforce, Tevez had to be trusted in City's XI.
Tevez managed 63 minutes against West Bromwich Albion; it was the second week of April but just his second league start of the campaign. He complemented David Silva and Nasri's subtle offerings with some blue-collared, sleeves-up industry behind Aguero and netted from 12 yards to make it 3-0. United lost at Wigan on the same day.
Mancini didn't believe City could catch up, though. "It is finished … Five points is too much," he stated. "United have got fantastic spirit. We don't have this spirit."
Tevez was immense in his next start at Norwich City. He scored with a vicious, swerving drive from 25 yards, set up Aguero with a deft backheel, and towered over his marker – who was six inches taller – to head past a stranded John Ruddy. He rounded Ruddy for his hat-trick but then reminded everybody of his misdemeanors with a golf swing celebration. Would City be playing catch-up if Tevez hadn't given himself so much time off?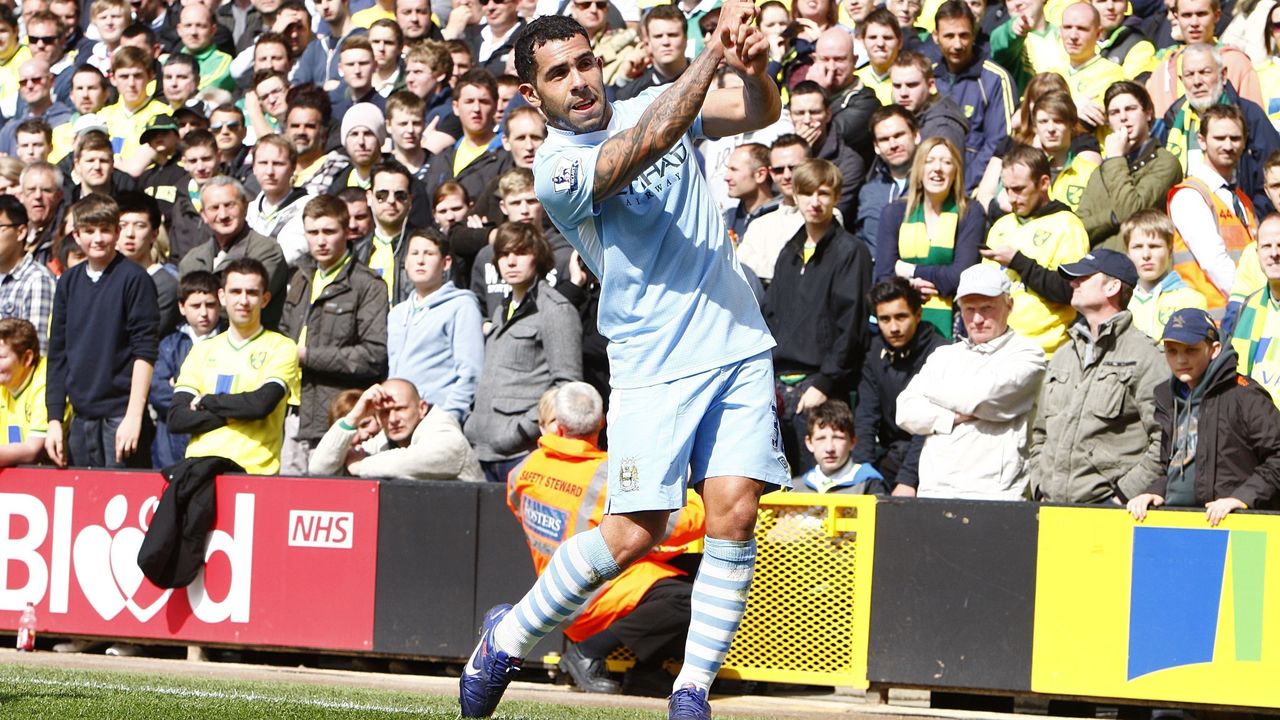 "The race is finished," Mancini repeated after the 6-1 win. United beat Aston Villa 4-0 the following day, keeping the gap at five points.
The loose cannon
Tevez's unique, almost unsophisticated style of play had brought a fresh dimension to the team in the closing weeks. It didn't matter that he didn't score another competitive goal for over four months – other players were beginning to step up.
Hours after United gave up two late goals in a 4-4 home draw with Everton, substitute Nigel de Jong's reassuring presence helped City overcome Wolverhampton Wanderers. Vincent Kompany headed the only goal of a Manchester derby that put City top on goal difference. Yaya Toure appeared possessed when he single-handedly maintained City's advantage with a double at Newcastle United on the season's penultimate weekend.
Then, it was time for Balotelli to make amends.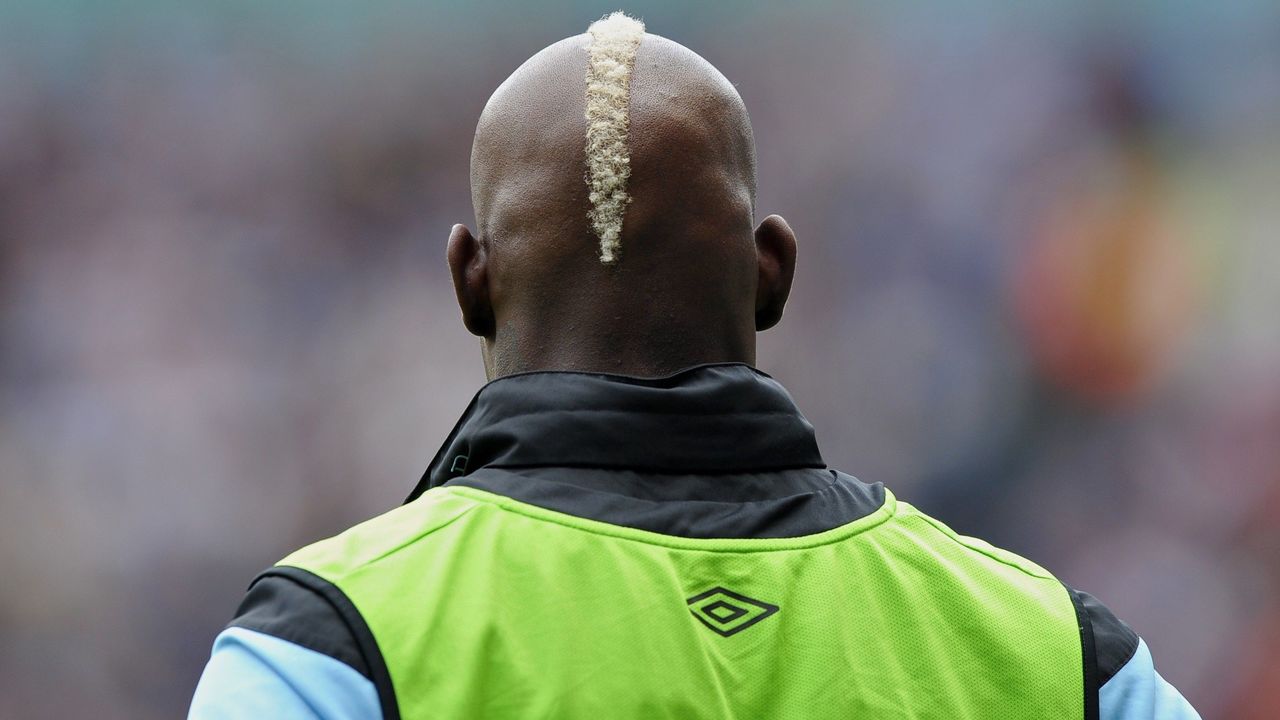 The Italian replaced Tevez in the 76th minute when City were 2-1 down to Queens Park Rangers on May 13, 2012. Balotelli hadn't played since his nasty, scatterbrained display at Arsenal, and Mancini didn't plan to use him for the rest of the term. Balotelli had already been up to his old tricks when he stepped off the bench to antagonize Joey Barton following the Scouser's infamous red card.
In a time of need, Mancini turned to his loose cannon. Yet, on this occasion, Balotelli didn't wildly misfire or ominously smoulder away from the action.
Instead, Balotelli dabbed the ball back to Aguero. You know the rest.
"I remember Roberto saying to me: 'Mario won us the title.' I knew what he was saying because, 99.9% of the time, Balotelli's pass for Aguero was not what he would have done," City's former chief executive Garry Cook told The Athletic. "Maybe he was off-balance, but that pass was not who he was.
"If he'd tried to flick it up and go for the overhead kick, like he normally would have done, it would never have happened. Yet for some unknown reason, he did it that day. And that was the moment."