Predicting how the Champions League will play out if it returns
On a day when the Champions League quarterfinals were meant to begin, we're predicting how the rest of the tournament will play out if it returns. The competition was put on hold midway through the last-16 stage, with Atletico Madrid, Paris Saint-Germain, RB Leipzig, and Atalanta already securing their places in the next round. Who will join them, and who will ultimately take home the coveted title?
Last 16, second leg
Juventus vs. Lyon (Lyon lead 1-0)
Juventus submitted arguably their worst performance of the season during the first leg in France, falling 1-0 while failing to muster a single shot on target. Maurizio Sarri was fuming after the defeat, perplexed as to why his lifeless players lacked any semblance of intensity. It's difficult to envision a similar scenario in the return fixture, though, regardless of where it's played. During their final match before the Serie A shutdown, Juve were aggressive and clinical in brushing Inter Milan aside. That's the team we're expecting in the second leg. An improved attacking display should be too much for Lyon.
Prediction: Juventus advance (3-2 on aggregate)
Manchester City vs. Real Madrid (City lead 2-1)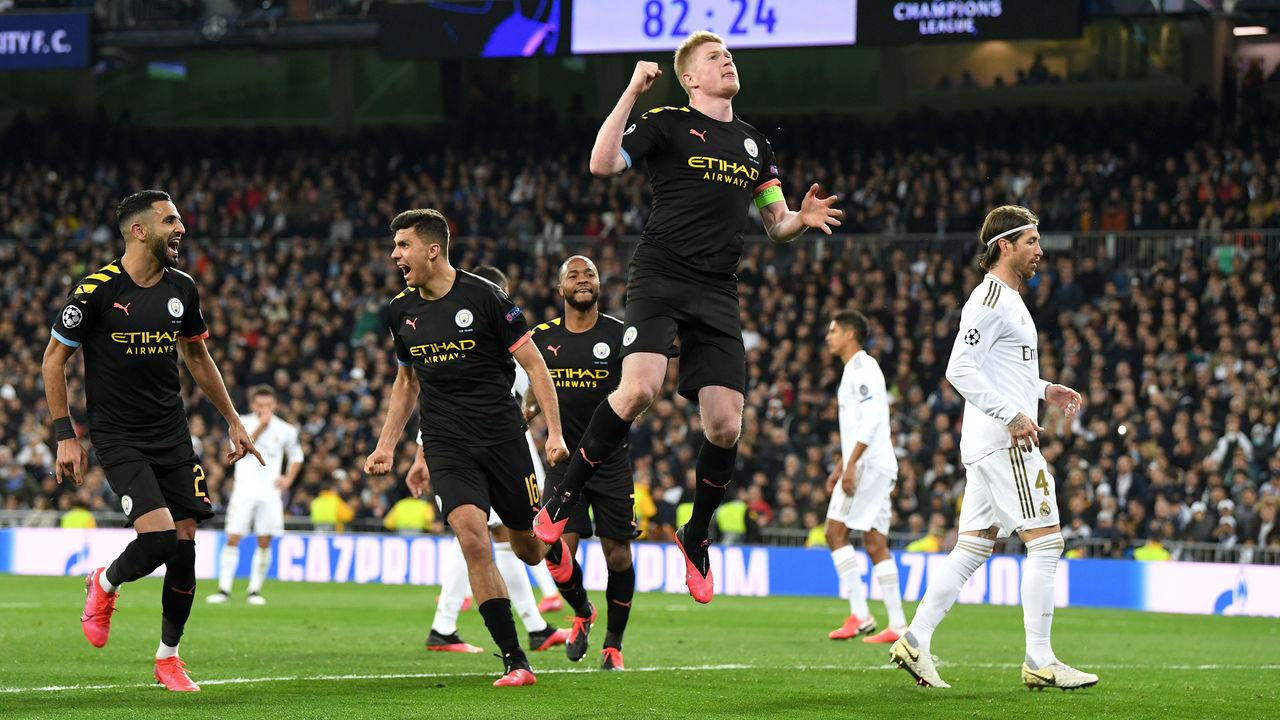 Manchester City enjoyed perhaps their greatest European night when they beat perpetual Champions League winners Real Madrid in the opening leg of their last-16 tie at the Santiago Bernabeu. The 2-1 away victory gave Pep Guardiola's team a sizable advantage heading back to the Etihad – one that was compounded by Sergio Ramos' late red card. With their eggs almost exclusively in the Champions League basket this season, City are poised to reach the last eight of the tournament for the third straight year.
Prediction: Manchester City advance (4-2 on aggregate)
Bayern Munich vs. Chelsea (Bayern lead 3-0)
With all due respect to Frank Lampard and his exciting crop of burgeoning stars, this tie is all but over. Bayern Munich showed the gap in quality that Chelsea need to close if they want to rejoin Europe's elite, dominating the Blues in a comprehensive 3-0 win at Stamford Bridge in the first leg. The Champions League is no stranger to unlikely turnarounds – including a particularly famous one in this very fixture – but it would take a minor miracle for Chelsea to overturn this enormous deficit.
Prediction: Bayern Munich advance (5-1 on aggregate)
Barcelona vs. Napoli (Tied 1-1 on aggregate)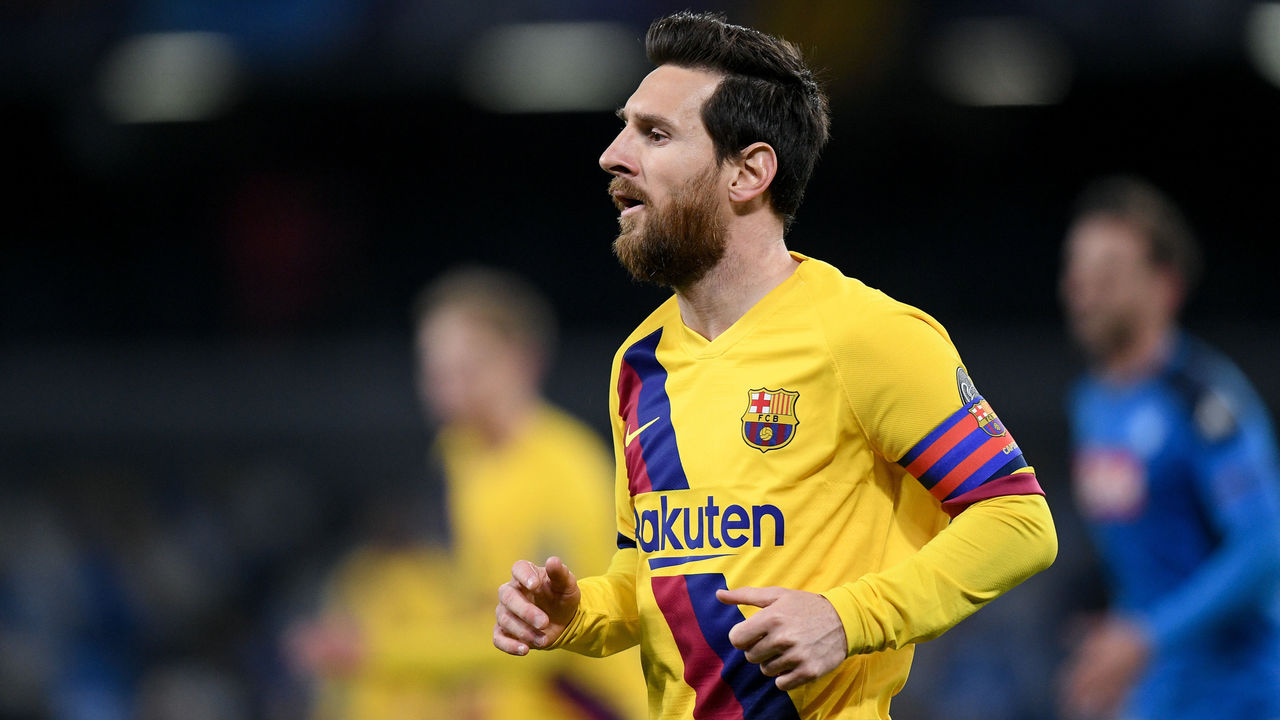 Napoli will be ruing their inability to take advantage of an impressive performance in the first leg at the San Paolo, as the Italian club could only earn a 1-1 draw in a match where Barcelona, not for the first time under Quique Setien, looked sterile and uninventive in possession. But Dries Mertens' first-half goal was canceled out by Antoine Griezmann, giving Barca an advantage they should parlay into an aggregate victory. Neither team has been predictable this season – Napoli have been downright erratic – but when in doubt, it's best to side with whoever has Lionel Messi.
Prediction: Barcelona advance (3-2 on aggregate)
Quarterfinal and semifinal draw
With some help from the best online randomizer available – i.e. the first one we found – we staged a mock draw to determine the quarterfinal and semifinal matchups the same way UEFA would decide the complete path to the final during one extravagant event in Nyon, Switzerland.
Here's how our quarterfinal draw unfolded:
Barcelona vs. Manchester City
RB Leipzig vs. Paris Saint-Germain
Atalanta vs. Bayern Munich
Juventus vs. Atletico Madrid
And the semifinal draw:
Barcelona or Manchester City vs. RB Leipzig or Paris Saint-Germain
Atalanta or Bayern Munich vs. Juventus or Atletico Madrid
Quarterfinals
Barcelona vs. Manchester City
Guardiola has endured plenty of Champions League heartache since last winning the competition in 2011 with Barcelona. His otherwise successful Bayern reign and his current trophy-laden stint in Manchester have both been accompanied by humbling European experiences. He's not reached the final since that aforementioned win in Rome, and he hasn't progressed past the quarterfinals with City. That will change this season. City, with their superb underlying numbers and overall talent advantage, are simply better than this current version of Barca, who continue to rely almost exclusively on Messi to get them out of jail. Even the near-infallible magician has his limits.
Prediction: Manchester City advance (4-2 on aggregate)
RB Leipzig vs. Paris Saint-Germain
Even though their celebrations in the wake of beating Borussia Dortmund seemed excessive – especially the apparent mocking of Erling Haaland – you could understand why Paris Saint-Germain's players and fans were so excited. Having crumbled during the round of 16 in each of the past three seasons, this was a legitimately big step in PSG's desperate quest for continental dominance. That hunt will continue apace here, as Neymar and Kylian Mbappe lead PSG past a valiant – but ultimately overmatched – RB Leipzig side.
Prediction: Paris Saint-Germain advance (3-1 on aggregate)
Atalanta vs. Bayern Munich
As we've come to learn, any match involving European darlings Atalanta will be riveting viewing, but a tilt against Bayern Munich, who themselves are loaded with attacking firepower, is truly exciting to think about. Atalanta are unwavering in the dedication to their ultra-aggressive style, for better or worse. They're unwilling to back down or make concessions, regardless of the opponent. Sadly, their spellbinding run will come to an end against Bayern, who are simply too talented not to take advantage of the holes that Atalanta's high-pressing system invariably opens up. The goals will flow at both ends.
Prediction: Bayern Munich advance (6-4 on aggregate)
Juventus vs. Atletico Madrid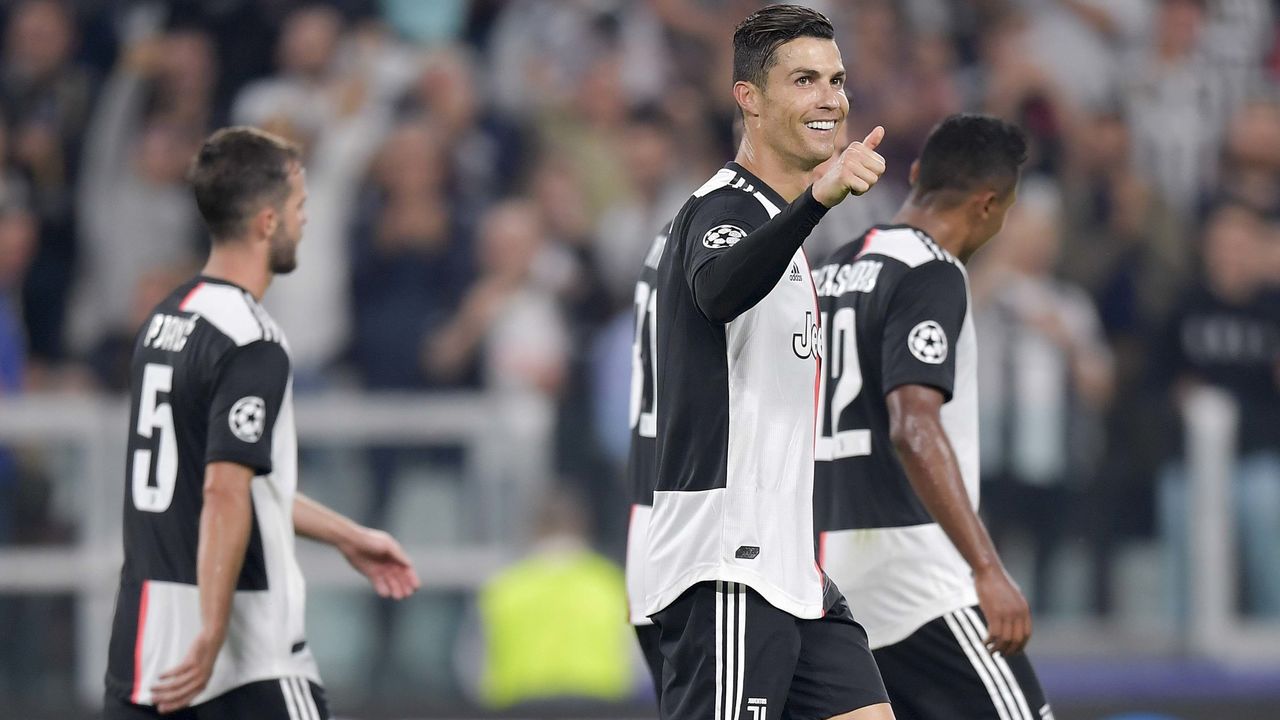 After knocking off defending champions Liverpool in dramatic fashion, the big tests keep coming for Atletico Madrid, who will again be tasked with slowing down nemesis Cristiano Ronaldo here. The Portuguese veteran scored a hat-trick in this encounter last season, dragging Juventus back from a 2-0 first-leg deficit on a memorable evening in Turin. In 35 career matches against Atleti, the former Real Madrid star has scored 25 goals, including four trebles. The task won't be quite so daunting this time, but after banging their heads against the wall for 90 minutes – to no avail – Ronaldo and Co. will again bounce back in the return fixture to march on.
Prediction: Juventus advance (2-1 on aggregate)
Semifinals
Bayern Munich vs. Juventus
Juventus haven't tried to hide their obvious Champions League aspirations. It's the reason Ronaldo was signed for an exorbitant fee and Gonzalo Higuain for similarly huge money before him. After bowing out to Ajax last season, Massimiliano Allegri, who won everything but Ol' Big Ears in Turin, was sent packing; Sarri's more intricate style of play was deemed better suited to continental success. Though the club's brass maintains otherwise, Juve are obsessed with lifting the trophy that's eluded them – often just barely – since 1996. That desolate run will continue, as a more well-rounded Bayern Munich team will make its midfield superiority count in an enthralling semifinal clash. That has been the critical problem area for Juventus, and it'll prove decisive against the German champions.
Prediction: Bayern Munich advance (3-2 on aggregate)
Paris Saint-Germain vs. Manchester City
This is a matchup fit for a final. Even those who bemoan the financial improprieties of both clubs must admit that – strictly on the pitch – these are two of the best, most entertaining teams in the game right now. Mbappe, Neymar, and the rest of the gang! Kevin De Bruyne pulling the strings behind Raheem Sterling and Sergio Aguero! It's a titanic battle. The high-powered squads won't be the decisive factor here, though. Guardiola's tactical tinkering, which has famously gotten him in trouble before, will again come to the forefront as he overthinks things against the quietly astute Thomas Tuchel. That, plus an uncharacteristically vulnerable City defense, will allow the PSG dream to live on.
Prediction: Paris Saint-Germain advance (4-3 on aggregate)
Final
Bayern Munich vs. Paris Saint-Germain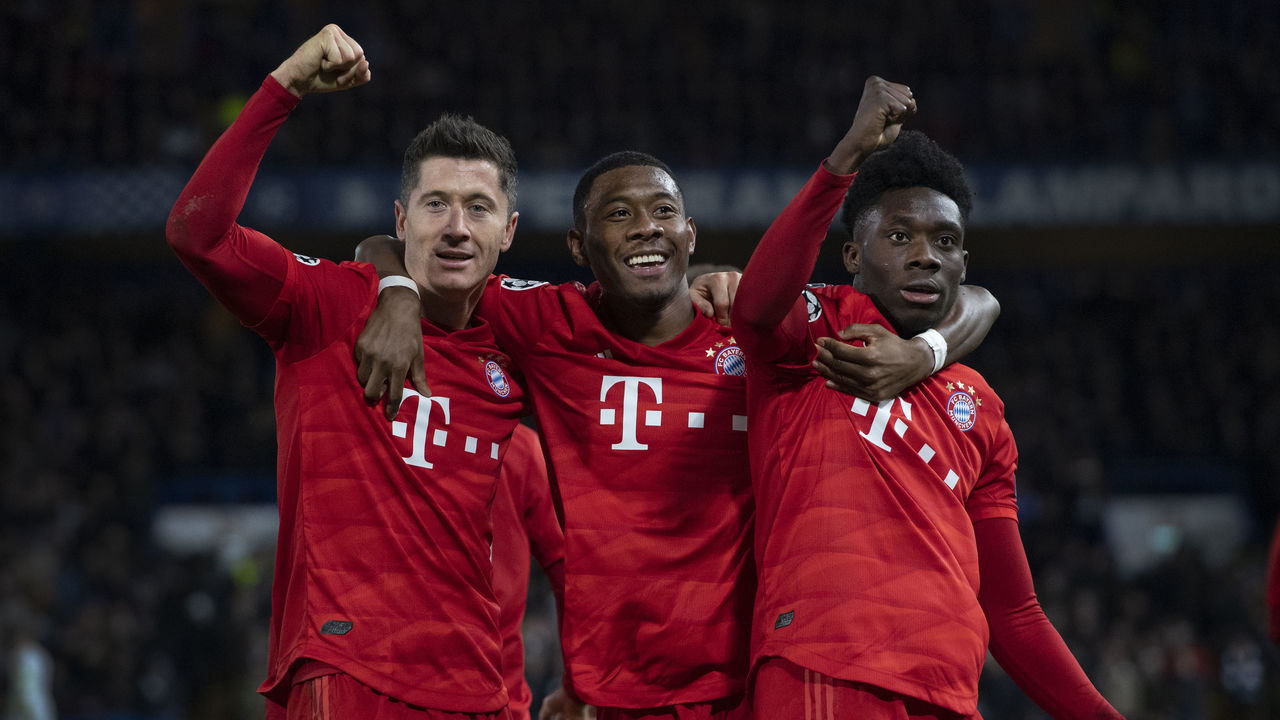 Hansi Flick repays the faith of Bayern Munich's front office. Having assumed command and steadied the ship after a bumpy start to the campaign, Flick, rewarded with the permanent gig, guides the Bavarian giants to their first Champions League title since 2013. In a fitting conclusion, Robert Lewandowski caps the most dominant scoring campaign in the history of the tournament, surpassing Ronaldo's single-season record of 17 goals with a brace in the showpiece contest. Bayern, the most balanced team in Europe, can simultaneously be the most explosive when the moment calls for it, and that combination will be too much for PSG to overcome.
Prediction: Bayern Munich win Champions League (2-1 AET)