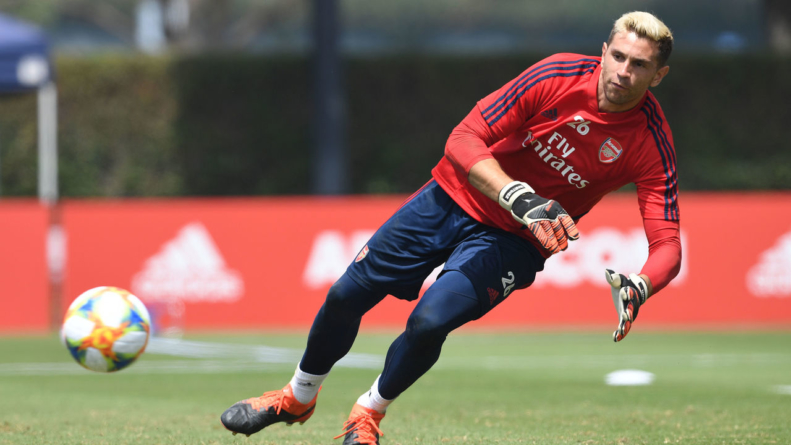 Ranking Arsenal's slew of summer transfer needs
Few teams in the Premier League are facing as many shortcomings as Arsenal. With only previously unknown Brazilian teen Gabriel Martinelli added during a transfer window that should be brimming with first-team turnover, the clock is ticking for Unai Emery and Co.
Considering the number of academy products handed senior squad spots ahead of the Gunners' preseason U.S. tour, it's evident that Reiss Nelson, Emile Smith Rowe, Eddie Nketiah, and Joe Willock are going to play a part. Former Invincible Freddie Ljungberg's promotion from youth team czar to Emery's assistant also shows that a club in transition is emphasizing promoting from within, though that won't solve all of Arsenal's problems. Selling countless players past their best would be a productive first step.
Here's a look at six areas of potential recruitment for Arsenal, ranked from least important to the most pressing need:
6. Backup 'keeper
Petr Cech has retired and returned to the fiery chasm from whence he came, and David Ospina has been sold to Napoli for an Oyster card that may or may not have any money on it. With Bernd Leno the certain No. 1 between the posts, Emery must decide if Emiliano Martinez can be the backup, as Matt Macey remains too green for first-team duties.
Martinez, 26, has been with the club since 2010, but he logged just six league bows during a stretch that also included a half-dozen loan spells. The Argentine is probably the smart pick, especially since Arsenal reportedly have just £40 million to spend. Martinez was good enough to do a job for Reading last year, but he isn't a shot-stopper who'd merit a regular spot in the starting XI.
Level of need: ?
5. Deputy right-back
It's hard not to feel gutted for Hector Bellerin. The Spaniard was enjoying a bounce-back campaign that placed him among the league's best right-backs before rupturing his ACL against Chelsea in January. With the sartorial savant certain to miss the start of the 2019-20 season, and Swiss agitator Stephan Lichtsteiner long gone, Arsenal faces a decision.
The answer should be an internal one, and it's not boyhood Gooner Carl Jenkinson, who's likely to join a second-tier side for peanuts this summer. Despite playing out of position in Bellerin's absence and dealing with defensive shortcomings, Ainsley Maitland-Niles did a decent job of filling the vacancy. He's not a long-term solution, but the 21-year-old is a good stand-in for a side short on cash.
Level of need: ?
4. Left-back
Nacho Monreal penned a one-year extension, and he now lacks the physical attributes to start at left-back in the Premier League. The 33-year-old's ability to provide relief in central defense makes him a worthwhile squad player. And then we have Sead Kolasinac, a bull in a china shop on a free transfer from Schalke who initially charmed thanks to a slew of assists.
The Bosnian's honeymoon period in north London is but a distant memory, and with Emery's preference for wide defenders who can contribute in attack, Arsenal need a new left-back. The links to Celtic's Kieran Tierney make sense, though reports of the Scots rejecting a £25-million second bid means the deal could become expensive for penny pincher Stan Kroenke.
Level of need: ???
3. Box-to-box midfielder
Aaron Ramsey has already started tweeting in Italian, and while the Welshman can backheel flick his way to a Serie A title with minimal effort, Arsenal has to deal with a massive hole in their midfield. That need is comparatively flying under the radar, especially considering the magnitude of Ramsey's goals while with the club, and exemplary work rate even as his contract ran down.
Mesut Ozil is far from a box-to-box midfielder capable of making dangerous runs into the penalty area, and his deal is a crippling burden. And although Matteo Guendouzi, and to a lesser degree, Joe Willock have displayed the ability to partially fill the void Ramsey left, you'd wager (wrongly) that a team with European aspirations would reinforce this area.
Level of need: ????
2. Winger
There's a reason the Gunners have been linked with Nicolas Pepe, Yannick Ferreira-Carrasco, Ryan Fraser, Malcom, and Hakim Ziyech, and that's because they desperately need help from wide vantages, which showed when Kolasinac was among the team leaders in chances created.
Alex Iwobi improved last year, but the 23-year-old Super Eagle remains a worryingly wasteful finisher, and Henrikh Mkhitaryan's biggest impact is his reported £200,000-a-week wages. Without threats out wide, "Emeryball" is easy to defend. Malcom could be ripe for the picking from crowded Barcelona, and Nelson replicating his form at Hoffenheim wouldn't hurt.
Level of need: ?????
1. Center-back
Where do we even start with Shkodran Mustafi? A ticking time bomb set to calamity, the German is a major problem. Roll the tape.
It's not just Mustafi, either. Arsenal have struggled with a long-standing need for help in a central-defensive role. Yet still, a crater the size of the sinkhole that swallowed your neighbor's home remains.
Rapidly aging Laurent Koscielny's refusal to attend the preseason tour should signal his exit, Rob Holding is returning from a major injury, Konstantinos Mavropanos is unproven, Sokratis is efficient but limited, and Calum Chambers performed best as a DM last season at Fulham. At least William Saliba is on the radar… for the 2020-21 season, if Spurs don't nick him.
Level of need: ???????????????