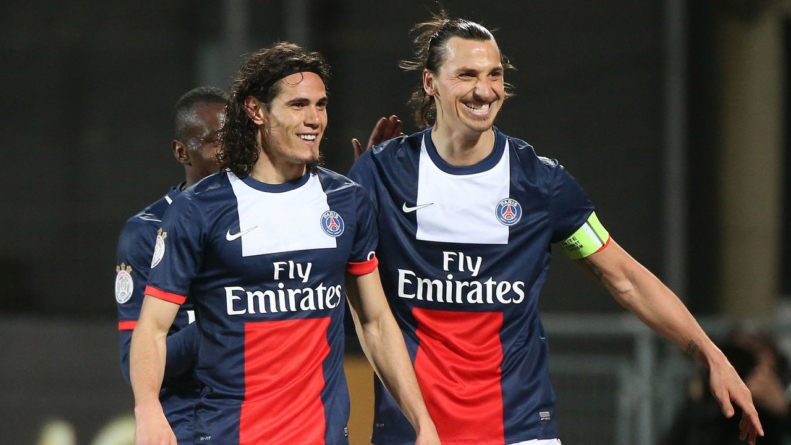 What's next for Zlatan: Examining 7 potential landing spots
Zlatan Ibrahimovic's spell with the Los Angeles Galaxy came to an end Wednesday. As tributes extolling his stellar two-year tenure emerged, so too did speculation about his next stop.
Guessing where the towering Swede will next ply his trade is a bit like a blind heave of a dart at a map: shrouded in mystery and somewhat tedious, exactly as he'd want it.
In the last month, the 38-year-old teased a La Liga return with a cryptic social media post easily confused for a Marbella timeshare sales pitch; tugged at Neapolitan heartstrings in tempting Napoli bigwig Aurelio De Laurentiis; and became the subject of countless transfer rumors.
What is certain is that Ibrahimovic will want to start, and he's still got some gas left in the tank for a team that's short on scoring and depth in attack. Another thing that's certain is his inability to offer much more, so nix reports of a move to Atletico Madrid to play under the stringent Diego Simeone – that's not happening.
With that in mind, here's a look at seven potential landing spots for Ibrahimovic, listed from least likely to most plausible.
China
Before making the MLS switch, Ibrahimovic was enticed by a $100-million bid from an unnamed Chinese club. Galaxy technical director Jovan Kirovski has since confirmed as much, though two years since the offer, talk of a move to the CSL has died down.
The preseason transfer window in China opens in January. With an average salary ranked sixth among football's top leagues, money could be enough to lure Ibrahimovic. So could the marketing possibilities for a player who's willing to shill any product imaginable.
Inter Miami
David Beckham's Inter Miami kick off their inaugural MLS campaign in March against the Galaxy, providing the perfect platform for Ibrahimovic to alienate his latest group of supporters. Several big-name players have been linked with Miami, so why not Ibrahimovic?
Well, because his "I came, I saw, I conquered," assertion all but cemented his departure from MLS. Also, the expansion franchise has been linked with Edinson Cavani, who's six years younger than his former PSG mate and a far better addition for Becks and Co. Cue the flimsy reports of Cavani to L.A. instead.
Napoli
"With me, San Paolo would always be full, and (Carlo Ancelotti) is a great manager. But the final decision would depend on several things," Ibrahimovic offered in October. Salivating, Napoli president De Laurentiis confirmed that a potential deal "has been spoken about for a few months."
Unlike some suitors on this list, though, Napoli doesn't really need Ibrahimovic. Between Arkadiusz Milik and Fernando Llorente, Ancelotti already has two beanpole forwards best suited to a central role – and despite fears that Dries Mertens will leave on a free transfer in the summer, an attack that also includes Hirving Lozano and Lorenzo Insigne is a bit crowded.
Manchester United
"I could play easy in the Premier League, so if United needs me, I'm here," Ibrahimovic said in August. It didn't sound like Ole Gunnar Solskjaer was interested: "If he was 28, not 38 … it would be a big difference," the gaffer demurred.
That said, Manchester United aren't blessed with options after failing to replace Romelu Lukaku and Alexis Sanchez. Marcus Rashford has started all 12 league affairs, headlining a shallow talent pool up top that also features oft-injured Anthony Martial and 18-year-old Mason Greenwood.
Fiorentina
Only one side in Serie A's top half has scored fewer times than Fiorentina. With Federico Chiesa manning a central spot despite traditionally thriving in wide roles, an upgrade at striker could boost the club's European ambitions. Fiorentina's flirtatious "Watching baseball" tweet is an obvious nod to Ibrahimovic's parting message.
While Vincenzo Montella's charges await the progression of teenage Serbian striker Dusan Vlahovic, a short-term move for Ibrahimovic could work wonders. It remains to be seen if billionaire Rocco Commisso's fresh reign at the club will bankroll such an acquisition, or if he'll continue the penny-pinching, mismanaging ways of the Della Valle family.
AC Milan
Goal-starved AC Milan have naturally been linked with Ibrahimovic, but unlike other potential Serie A suitors, they've been tight-lipped on the matter. Ibrahimovic is no stranger to the club, having bagged 56 goals in 85 matches in all competitions over two seasons to go with the Scudetto in 2011.
The Rossoneri sit 14th in Italy's top flight, just four points adrift of the drop, and only five clubs in Serie A have scored fewer goals than their 11 in 12 matches. Once hailed as a star striker of the future, Krzysztof Piatek's stock has plummeted rapidly. Amid Financial Fair Play penalties, Milan might need to be crafty if Ibrahimovic fancies making more than his €1.5-million-a-year wage in MLS.
Bologna
Sinisa Mihajlovic managed Ibrahimovic at Inter from 2006-08, and the Swede credited the current Bologna boss with improving his free-kicks. "(He) wants to join us because of his rapport with Sinisa. We'll do everything to make this madness happen," Bologna sporting director Walter Sabatini said.
Corriere dello Sport claims Mihajlovic told Ibrahimovic to "come and have fun while entertaining all of Italy," and Bologna chairman Joey Saputo (who also owns the Montreal Impact) reportedly tabled a year-and-a-half, €8-million deal. Considering 37-year-old rat-tail aficionado Rodrigo Palacio has started eight matches at forward, the Rossoblu could do worse than adding Ibrahimovic.