Why the EPL's biggest matches have been so disappointing this season
The scene looked familiar. Manchester United sat back, Liverpool labored in possession, and chances were few and far between.
"Not a thriller," match commentator Jon Champion said at halftime. "Not yet."
And in the end, not at all. The Premier League's latest box-office contest devolved into another conservative display between would-be title rivals who feared the repercussions of defeat more than anything else.
Sunday's drab 0-0 draw at Anfield followed disappointing results in similar-caliber clashes this season. Think of the 1-1 stalemate in November between Manchester City and Liverpool, or Chelsea's goalless draw against Tottenham later that month. United played out another drab 90 minutes against City that drew heavy criticism from the match-viewing public.
Not that it mattered to Ole Gunnar Solskjaer.
"In my time against Manchester City, that's the best performance we have had," the United manager said after the Dec. 12 fixture.
A draw was regarded with warmth at a time when a loss would've plunged either side into crisis. It's about self-preservation.
So it was Sunday. Sitting in first place at the halfway point for the first time since Sir Alex Ferguson retired in 2013, United suddenly had something to lose. Meanwhile, Liverpool continued to play with converted center-backs Fabinho and Jordan Henderson in defense and called upon Xherdan Shaqiri, who hadn't started a Premier League match in 13 months, to contribute to their ailing front line. Solskjaer labeled the point United earned a "positive," and Klopp said he "liked" the game. Neither seemed too bothered.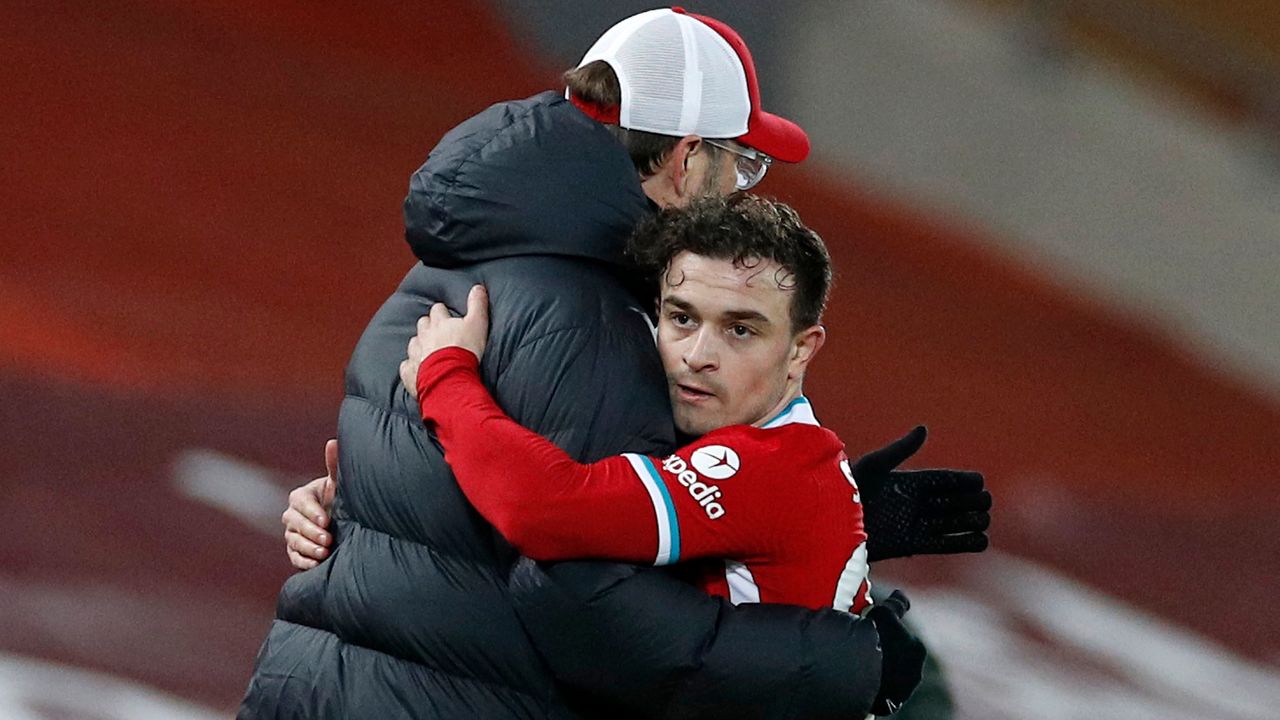 This season, more so than any other, doesn't care about the hype and buildup to these matches. Due to injuries, COVID-19, and the relentlessness of the 2020-21 schedule, managers can't expect all of the high-pressing that defined previous campaigns. Game management is the most attractive strategy.
United have just one win from six matches against teams in the Premier League's top seven, and yet they lead the pack. How much weight, then, should these top-of-the-table clashes hold? Solskjaer's side has managed to climb the standings by beating the clubs it should beat. Wins over Sheffield United, Leeds United, Wolverhampton Wanderers, Aston Villa, and Burnley have propelled the Red Devils this season. That 6-1 loss to Tottenham Hotspur doesn't really weigh on United anymore. Neither do these dropped points against the Premier League's elite contenders. That's why this season's winner won't need more than 90 points to clinch the title.
Other managers have used possession as a form of defense, sensing the dangers of a potential burnout in a season filled with extraordinary shortages and disruptions. Pep Guardiola's City have dealt with a number of COVID-19-related absences, and because the Spaniard has persisted with a relatively short squad – even, on occasion, refusing to rotate – he's toned things down. It isn't practical to ask players to play a high line when they're still recovering from the previous match.
It means a lot more to Guardiola, Solskjaer, and Klopp to keep the ball and defend against the counterattack. That way, less energy is spent needlessly running and chasing the ball.
"Stay more in position and let the ball run," Guardiola said recently.
City have turned their season around by running a lot less. United look a lot more comfortable sitting back, and so do maligned defenders Harry Maguire and Victor Lindelof. Despite their goalscoring slump, Liverpool have created chances without a counterpress. Jose Mourinho's Tottenham are perfecting the art of the counterattack as well, burying the few opportunities it gets with aplomb.
After years of tactical innovation, the Premier League is embracing the fundamentals, and without an endless energy supply or the adrenaline of a roaring crowd, the biggest occasions have become exercises in survival.